Under the SETTINGS menu in your agent dashboard you will find the SEARCH section, which contains all the settings that effect the default search of your site.  This includes things such as limiting the available search area, adjusting the initial default search screen (map, which listings show, etc), and what property/sale/listing types you wish to be displayed.

To begin, let's take a look at the SETTINGS > SEARCH page: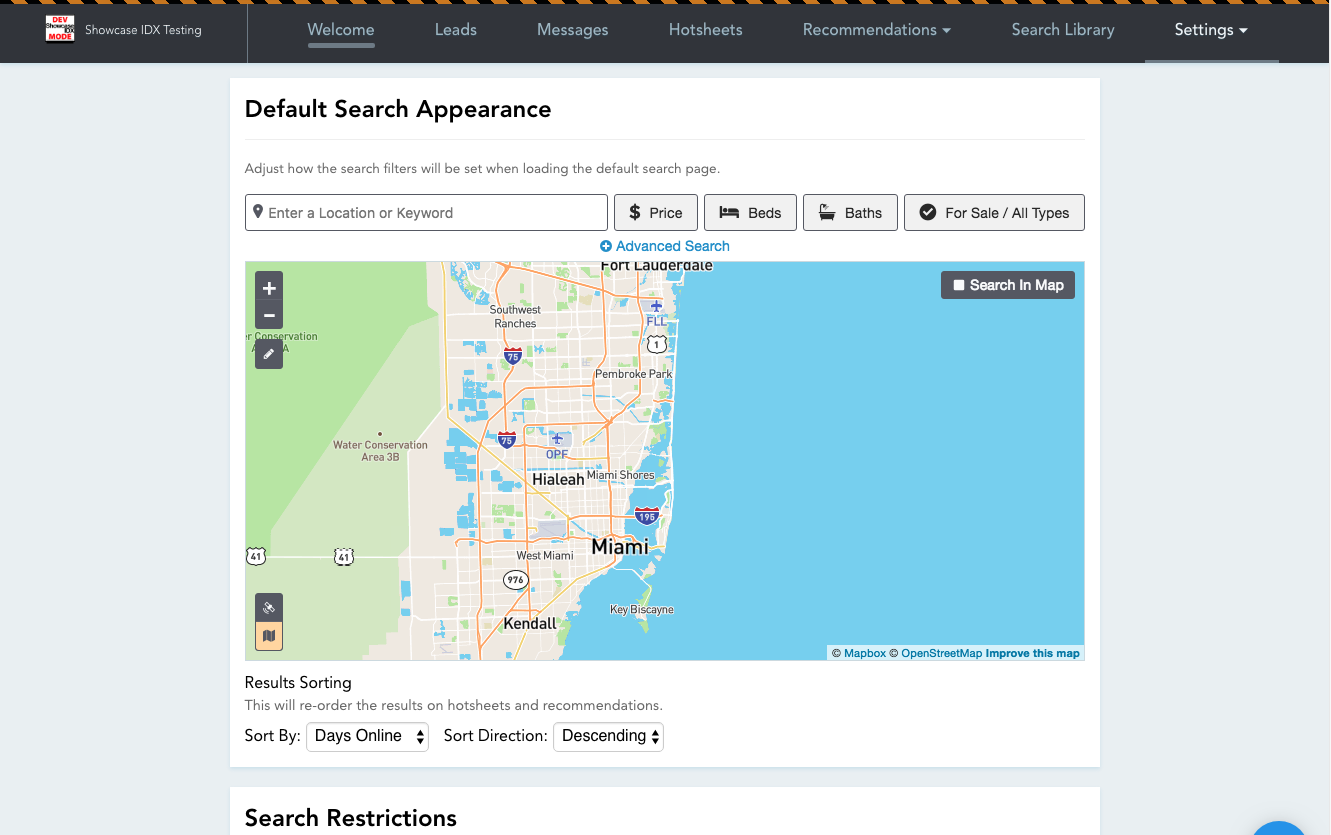 You'll notice right away that the interface is very familiar: we've made it super easy to set up your default search view by providing you the exact same interface you would see on the site itself.
The most important rule to remember is this:
THE DEFAULT SEARCH PAGE WILL MIMIC WHATEVER YOU SET UP IN THE DEFAULT SEARCH APPEARANCE SECTION.
You'll notice in the above picture that the search is centered over Miami: if you were to visit the default search page on the live site, you'll notice that the map on the live site is in the exact same place.
This rule applies to the FILTERS applied as well: set your price filters, bathroom filters, etc exactly as you want them to appear to your users when they visit the default search page.

You can also change the sorting of search results by adjusting the Results Sorting section under the map:


In addition to the Default Search Results appearance, you can also include site-wide search restrictions using the Search Restrictions section: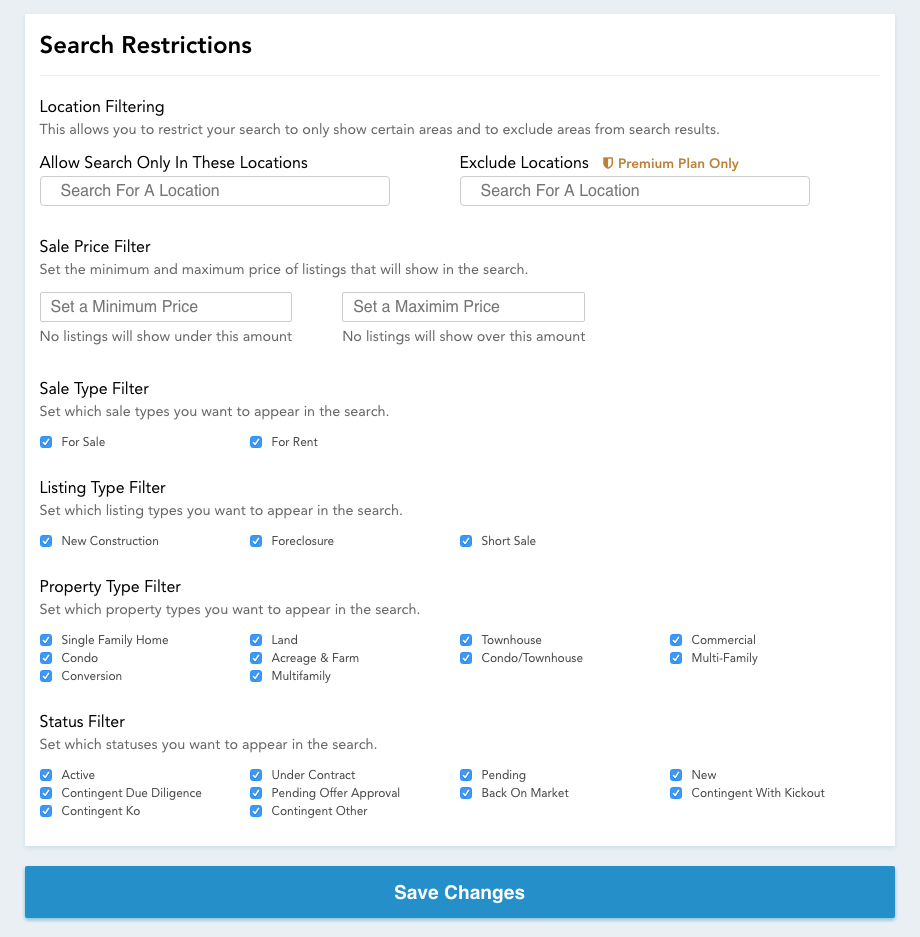 USE CAUTION WHEN USING THE LOCATION FILTERING
The included location filtering options are VERY powerful and DO NOT take into account variations of location names in certain MLS feeds: for instance, city names with the "Fort" prefix may be in the MLS under a variety of names - Ft. Jones, Fort Jones, FT Jones, Ft Jones are all potential values, and if you are setting up a filter to only show listings from Fr. Jones, you may miss listings that would otherwise show up.

In almost all cases it is better to use a polygon search in the Search Appearance map if you are attempting to limit listings in the search results to a specific area.  The Location filters really should only be used if you have a limited search area (such as counties or zip codes) and do not want ANY OTHER LISTINGS FROM ANYWHERE ELSE to show on your site.

Similarly, the Sale Type, Listing Type, Property Type and Status filters can give you finite control over what types of listings are displayed in your site.  Don't deal with rental properties?  Uncheck the "For Rent" box and all rentals will disappear off your site and will NOT be indexed by Google.
Once everything is set up as you'd like, simply click the big, blue Save Changes button and you are ready to go!  As usual, CLEAR YOUR SITE CACHE AFTER ANY CHANGES MADE IN THE ADMIN.