Under the SETTINGS menu in your agent dashboard, you will find the SEARCH section, which contains all the settings that affect the default search of your site. This includes things such as limiting the available search area, adjusting the initial default search screen (map, which listings show, etc), choosing your consumer-facing search form and what property/sale/listing types you wish to be displayed.
You can also find more information and a video tutorial of these instructions.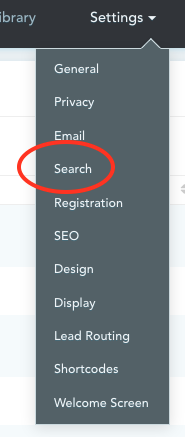 To begin, let's take a look at the SETTINGS > SEARCH page: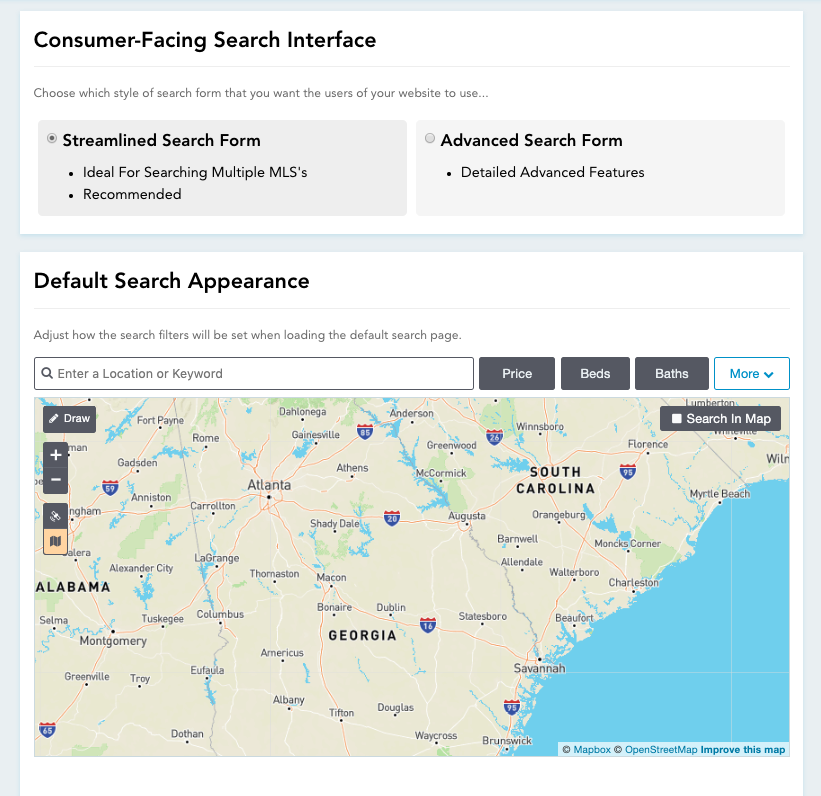 You'll notice right away that the interface is very familiar: we've made it super easy to set up your default search view by providing you the exact same interface you would see on the site itself.

The first item you'd want to update is what search experience you would like your potential leads to have by choosing the search form.
Showcase IDX offers you two different styles of home search. They can both be great and are optimized for your exact situation to customize your website. Keep reading to find out more about each one.

STREAMLINED
This search form has a lot of filters that someone might use when looking for a home. The filters are under a MORE button that contains Listing Filters (For Sale, For Rent, search by MLS ID, days online, open houses, etc.), Must-Have Amenities and Property Type filters.
If you are using more than one MLS feed on your website, we recommend using this form. MLS data can be vastly different from one MLS to another. We have optimized the Streamlined search for your clients searching on your website on mobile and across different MLSs. The amenity filters, when checked, will be a "yes" function. For example, selecting the waterfront amenity will ensure that homes with a type of waterfront are shown in the search and this will pull in listings from each of your MLS feeds.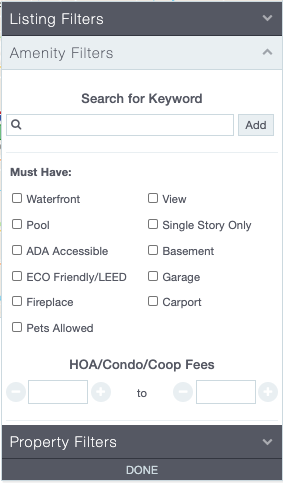 ADVANCED
This search form has most of the same filters that the Streamlined search form has, but with niche or more specific filters found separated under buckets like General, Interior, Exterior, and Community Features. The filters depend on what the MLS provides to us.

If you are using only a single MLS, this can be a great version of the search to try. This advanced search may allow us to integrate a few additional search features depending on the data available from your MLS. Note: You can still select this search type if using multiple MLSs but may not have certain MLS-specific data available for every market.
The most important rule to remember is this:
THE DEFAULT SEARCH PAGE ON YOUR SITE WILL MIMIC WHATEVER YOU SET UP IN THE DEFAULT SEARCH APPEARANCE SECTION.
This rule applies to the FILTERS applied as well: set your price filters, bathroom filters, etc exactly as you want them to appear to your users when they visit the default search page.

You can also change the sorting of search results by adjusting the Results Sorting section under the map:



In addition to the Default Search Results appearance, you can also include site-wide search restrictions using the Search Restrictions section: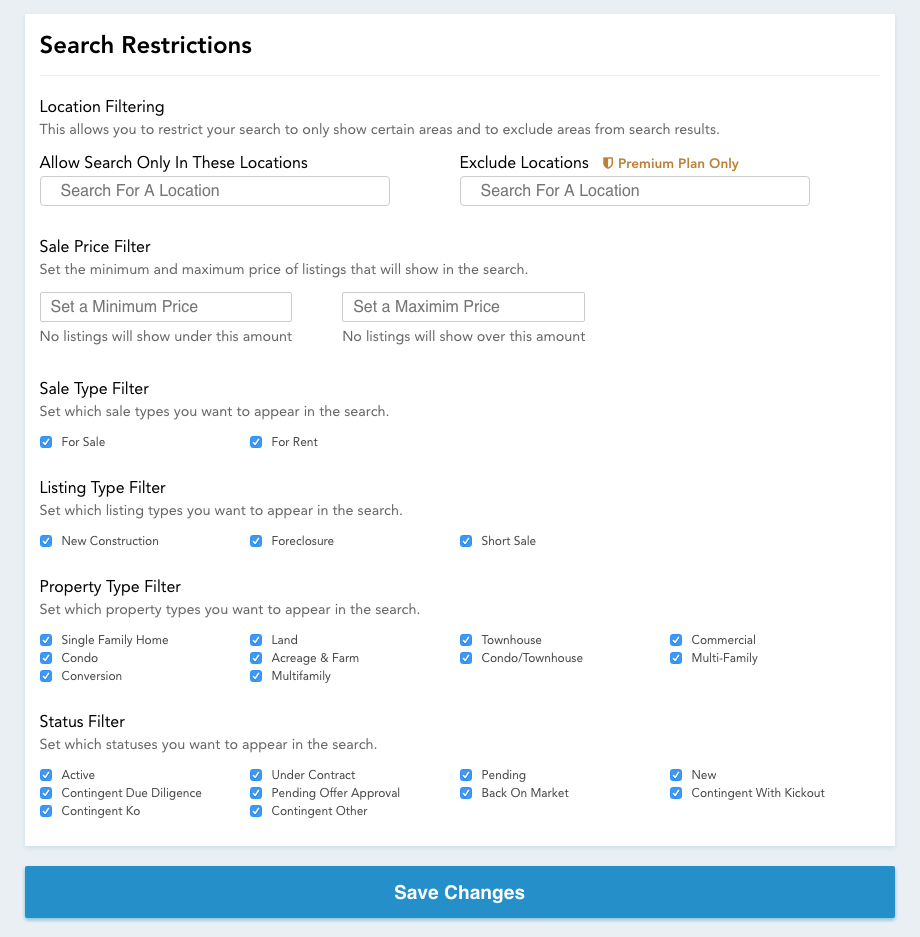 USE CAUTION WHEN USING THE LOCATION FILTERING
The included location filtering options are VERY powerful and DO NOT take into account variations of location names in certain MLS feeds: for instance, city names with the "Fort" prefix may be in the MLS under a variety of names - Ft. Jones, Fort Jones, FT Jones, Ft Jones are all potential values, and if you are setting up a filter to only show listings from Ft. Jones, you may miss listings that would otherwise show up.

In almost all cases it is better to use a polygon search in the Search Appearance map if you are attempting to limit listings in the search results to a specific area. The Location filters really should only be used if you have a limited search area (such as counties or zip codes) and do not want ANY OTHER LISTINGS FROM ANYWHERE ELSE to show on your site.

Similarly, the Sale Type, Listing Type, Property Type, and Status filters can give you finite control over what types of listings are displayed on your site. Don't deal with rental properties? Uncheck the "For Rent" box and all rentals will disappear off your site and will NOT be indexed by Google.
Once everything is set up as you'd like, simply click the big, blue Save Changes button and you are ready to go! As usual, CLEAR YOUR SITE CACHE AFTER ANY CHANGES MADE IN THE ADMIN.