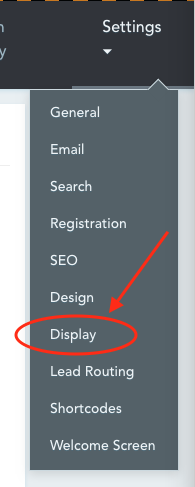 The DISPLAY section, located in the SETTINGS menu of your agent dashboard (admin.showcaseidx.com) is where you go to for many of the premium display settings that effect your Default Search Page.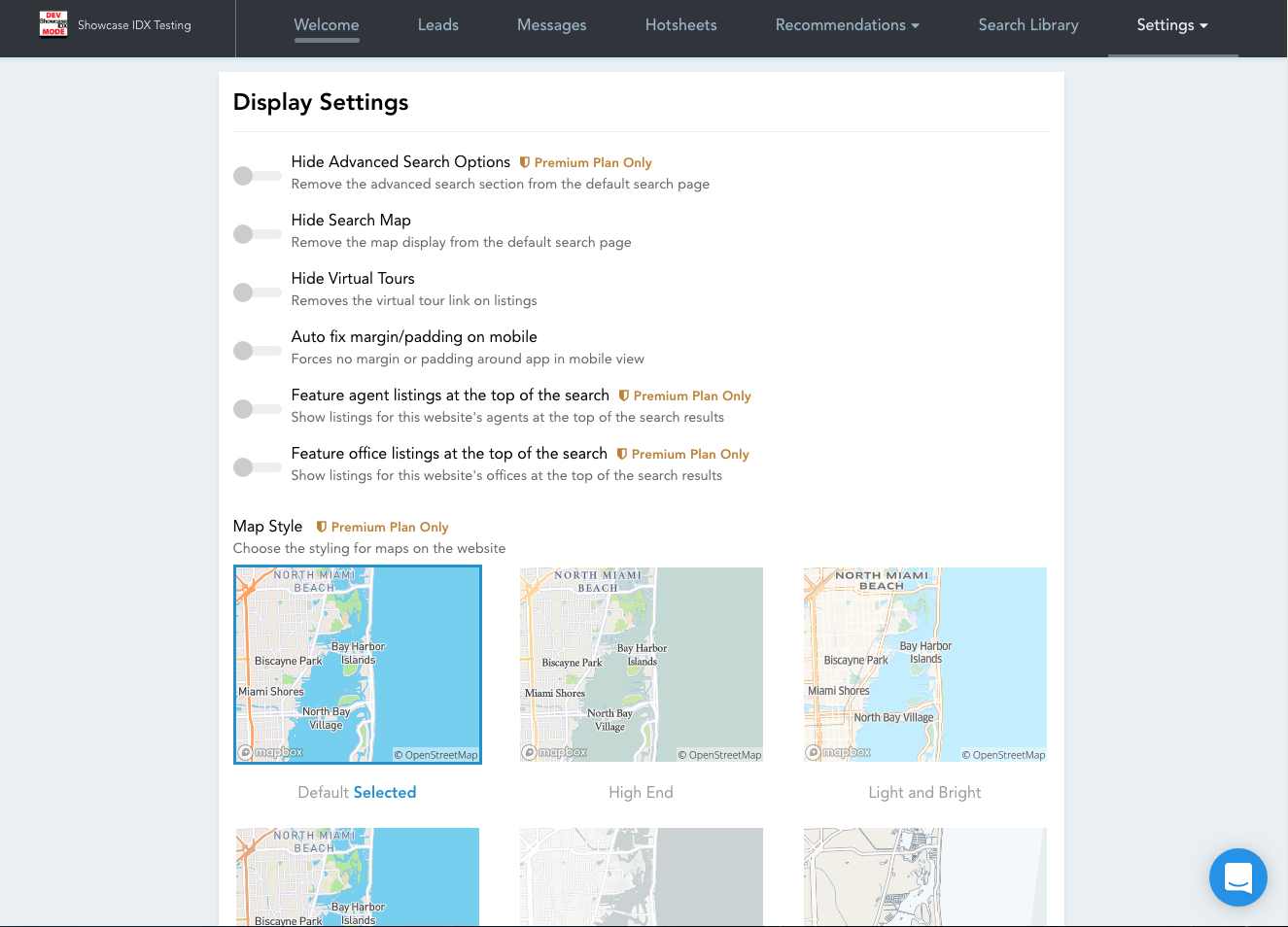 All users have access to the following options:
This allows agents to hide the map entirely from the default search page.
This allows agents to hide the links for virtual tours entirely from all listings across the site
Auto-Fix Margin/Padding on mobile
Turning this on will remove margin and padding from all Showcase elements for mobile; this is useful if you are using a theme with heavily customized CSS for mobile, or mobile specific widgets
Premium users have the following extra options:
Hide Advanced Search Options
This will remove the "Advanced Search" option from the default search page, limiting your users to Price, Beds, Baths and Listing/Property/Sale Type filters that are present by default

Feature Agent Listings at the Top of the Search
If you have an Agent ID entered for the users in your memberlist, this option will force listings with a matching Agent ID to the top of the search results, as long as they match the rest of the criteria present in the search filters
Feature Office Listings at the Top of the Search
Exactly the same as the Feature Agent setting, but this applies the Office ID as the filter instead of the Agent ID, forcing Office listings to the top of the search results
Showcase IDX comes bundled with 9 distinct display styles for the search result map. Premium users can choose from any of these (Standard Users are limited to the default view only) to better match the theme of their website.
Pretty straightforward: limit the number of results that can be returned per page of search results. Lowering this number will result in faster page load speeds, while raising it will result in slower page load speeds, as Showcase pre-fetches the listings up to the value selected here with each search.
Default Min/Max Price Options
Only deal with luxury properties? Premium users can choose which tier of prices they want the pricing filter to display when a user clicks to adjust the price filters. There are 2 options: one for "For Sale" prices, and another for "For Rent" prices.
Once you have the display settings adjusted according to your needs, simply click the big, blue SAVE CHANGES button at the bottom of the page to save your settings. If your site uses a caching plugin, you will need to clear your site cache before the changes become visible!