What is IDX?
IDX stands for internet data exchange. IDX is a software that allows real estate professionals to add MLS listings to their personal websites. IDX creates a data connection between the multiple listing service (MLS) and your real estate website.
Using IDX software on a real estate website allows consumers to browse new homes on their own time, and it allows real estate agents to get internet exposure to home buyers who are not their clients yet. IDX keeps listing and contact information completely on the website, allowing agents to keep the leads their site generates.
What is an MLS?
MLS stands for multiple listing service. An MLS is the source of current and new real estate listings in a given area. 
An MLS is either a single Board of Realtors/Association of Realtors or a combination of multiple Board of Realtors/Association of Realtors to make up a larger area.
For example, Bright MLS covers Maryland, Delaware, New Jersey, Virginia, Pennsylvania, Washington, and West Virginia. Each state then has several associations that participate as part of Bright MLS. Agents who are a member of one of the associations would be able to access all of the listings in that MLSs coverage area.
MLSs also use data vendors such as FlexMLS and Matrix. These are not MLSs but rather they are the vendors that the MLSs use for agents to login and list properties for syndication.
What is an MLS Pass-Thru Fee?
MLSs may require vendors like Showcase IDX to pay Data Access Fees. Showcase IDX charges an "MLS Pass-Thru Fee" (aka Data Management Fee) that gets passed through to customers who use those feeds. These fees vary from $5/month up to $30/month depending on the MLS and the amount the MLS charges to the vendor. You will see this as a line item on the billing summary before subscribing to a plan. This fee is then paid to the MLS on your behalf.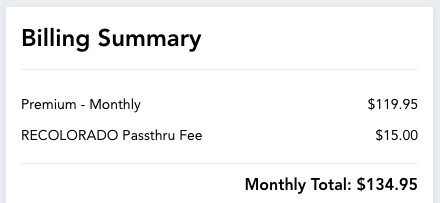 You can check if your MLS has a pass-thru fee on their information page by visiting https://showcaseidx.com/mls-coverage/. 
IDX & MLS Compliance
IDX software, like Showcase IDX, must abide by MLS rules and regulations, which are set by NAR (National Association of Realtors). This may include identifying the listing agents or offices on each listing, displaying required logos and disclaimers, and what listing information can or can't be displayed on a website. Showcase IDX maintains this compliance for customers, so they don't have to. However, each website may also be required to maintain its own branding in compliance with the MLS rules and regulations.