Zapier is a handy tool for integrating multiple apps without needing to know how to code or work with an API. The basic service is free for Showcase IDX, and may be free for whatever app you are wanting to integrate (check with Zapier to be sure).
If you aren't already a member, create a free account with Zapier and then continue below.
Once you've set up your account with Zapier, you can start setting up your Zaps.
On the Explore page in Zapier, you should see this at the top of the page:

You will select Showcase IDX and the app you want to connect. We'll be using Pipedrive in this example. Once you've selected your apps, you'll be prompted to select your trigger and your action. We're going to set up a New Lead Trigger and Action.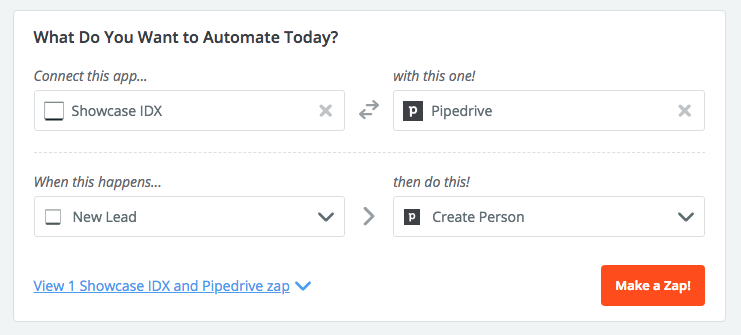 If you're not sure what kind of Zap to set up for your app, check to see if we've supplied a Zap Template. A one click option for quick and easy Zap set up!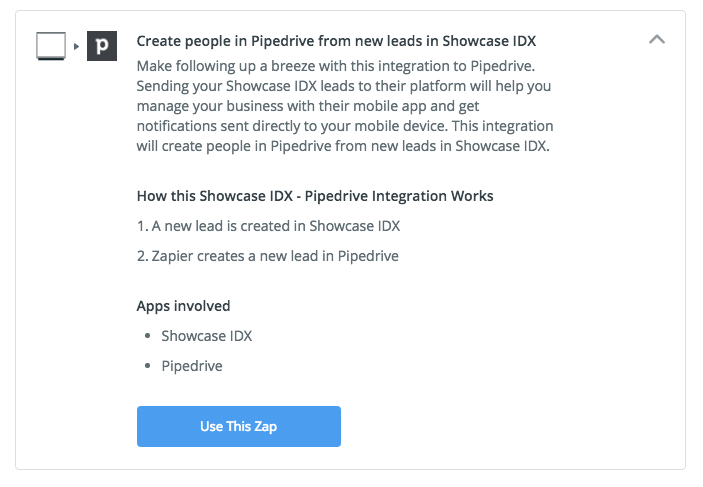 ***NOTE***
The Showcase IDX Zapier Integration offers 2 trigger actions:
New Message - Triggers the Zap whenever a new message is sent through the plugin from a lead or visitor
New Lead - Triggers the Zap whenever a new lead signs up for your site, through a widget or the regular sign-in process
Choose which action you wish to setup, then continue to the next step.
***IMPORTANT NOTE***
If you are triggering on "New Lead" creation, you must ensure there is already at least 1 lead on your site. If not, you should create a test lead using an e-mail that is DIFFERENT FROM ALL OTHER MEMBERS OF YOUR TEAM.
Same for "New Message" --> there should be at least one new message in the system before this integration will work, so if needed send yourself a test message from within the plugin.
*********************
To start, make sure you are logged in to your Showcase IDX agent admin (admin.showcaseidx.com) and haven't already integrated your account with Zapier before. If you were using the BETA-access Zapier link that we previously had, you will need to disable that integration before proceeding.
Click Make A Zap! and then continue on the next screen.
Once you click "Connect Account", you should be greeted by a pop-up window that looks like this: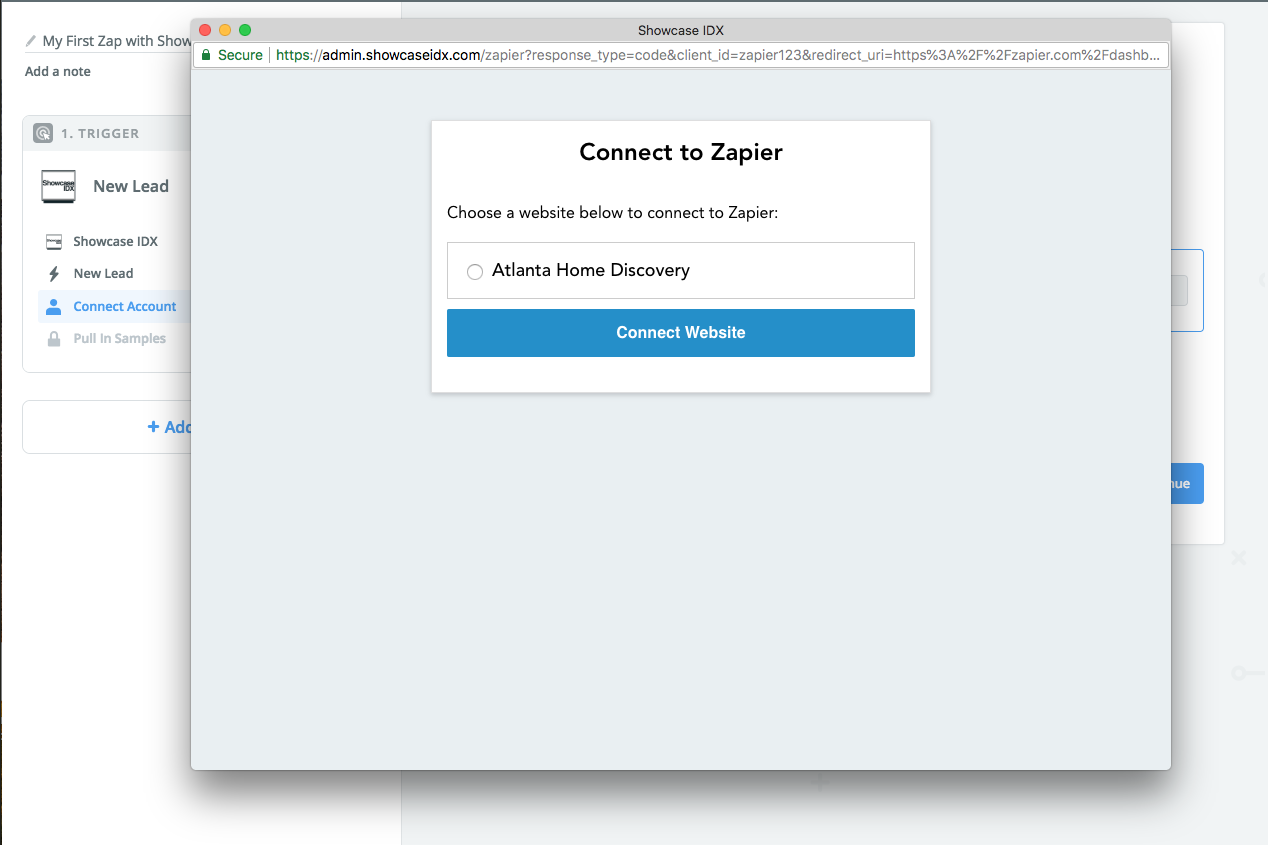 Choose which site you'd like to integrate if you have more than one, then click CONNECT WEBSITE and the pop-up will go away on its own and you'll be ready to proceed.
The next step will attempt to test the account by looking up the most recent lead or message. You'll see if it was successful or not. If it's not successful, follow the instructions until you get it right. If you have a successful test, you can proceed.

At this point, your Zapier account is now connected to your Showcase IDX account. Your next step is to click the "ADD ACTION" button on the left-side of the Zapier screen. This will allow you to choose which app you want to send the Showcase IDX data to. This is a standard search field, so simply search for your app of choice and select it.
Follow the on-screen instructions for your chosen app, which will vary greatly depending on the app. Once your are done, you can make sure the Zap is active and track its usage in your Zapier dashboard.