Showcase has two plans to choose from, the Essentials and the Premium plan. When evaluating your needs, you may wish to consider a few things to help you determine which plan is right for you. For example, how many users will you have? Do you plan on integrating with a 3rd party CRM (like Follow Up Boss or Liondesk)?
If you are trialing our product, you are trialing the Premium plan. When you're ready to activate your own account, you will need to choose between the Essentials and Premium plan.
Essentials Plan Features
Essentials has a lot of really great features. The entire list comparing Essentials to Premium can be found here, but here are just a few highlights:
Live MLS Data Feed, which updates within 15 minutes (because that's what it's all about!)
Phone, Email, and Chat support: don't worry, we're here to help!
SEO Optimization Tools
Customizable Colors, Fonts, and Designs
Indexable XML Sitemap
Mortgage Calculator
HTTPS & SSL Compliant
Basic CRM
Polygon Map Search
Here's what your customer sees with Essential plan content example displayed:

Premium Plan Features with Premium Listing Content
The Premium plan boasts everything in the Essential plan, as well as additional features:
Left Side Map display - sleek full-width side-by-side view and larger map display, supporting continuous and simultaneous map navigation wile browsing listing results
Enhanced pagination of listings - listings beyond the first 100 results on your default search page will be visible to Google when your website is crawled
More free users (5, instead of 2 with Essentials)- users that can access admin.showcaseidx.com and potentially be included in the lead routing
Exclude locations from the search - if you do not want specific locations to be searchable on your website, you can exclude them under Settings > Search, under Search Restrictions
Premium listing content - displays on the individual listing pages, includes demographic content based around the zipcode of the property (shown below)
Premium listing content lock as well as search results lock (registration settings)- locks the premium content and requires users to sign up to see content
Registration form customization - customize the header and value text on the sign up form, as well as toggle on or off the social account options
Hide the advanced search options ability - a setting to remove the advanced search on your website, found under Settings > Display
Featuring your agent and office listings at the top of any search on your website - pushes the listings associated with your agent or office ID (which is associated with your user) to the top of any search a user does on the site, and hotsheets, and displays with a featured banner (Settings > Display)
Round robin lead routing settings (great for larger teams) - distribution of leads throughout the team roster/users
Additional map styles to fit your theme - change the color/look of the map (Settings > display)
Real-time integrations to 3rd party CRMs like Liondesk, Follow Up Boss, Slack Messaging, and Prospect Converter - if you would like to connect our product to a 3rd party CRM for your leads to be routed to that CRM, you can do so here)
Here's what your customer sees with Premium plan content example displayed.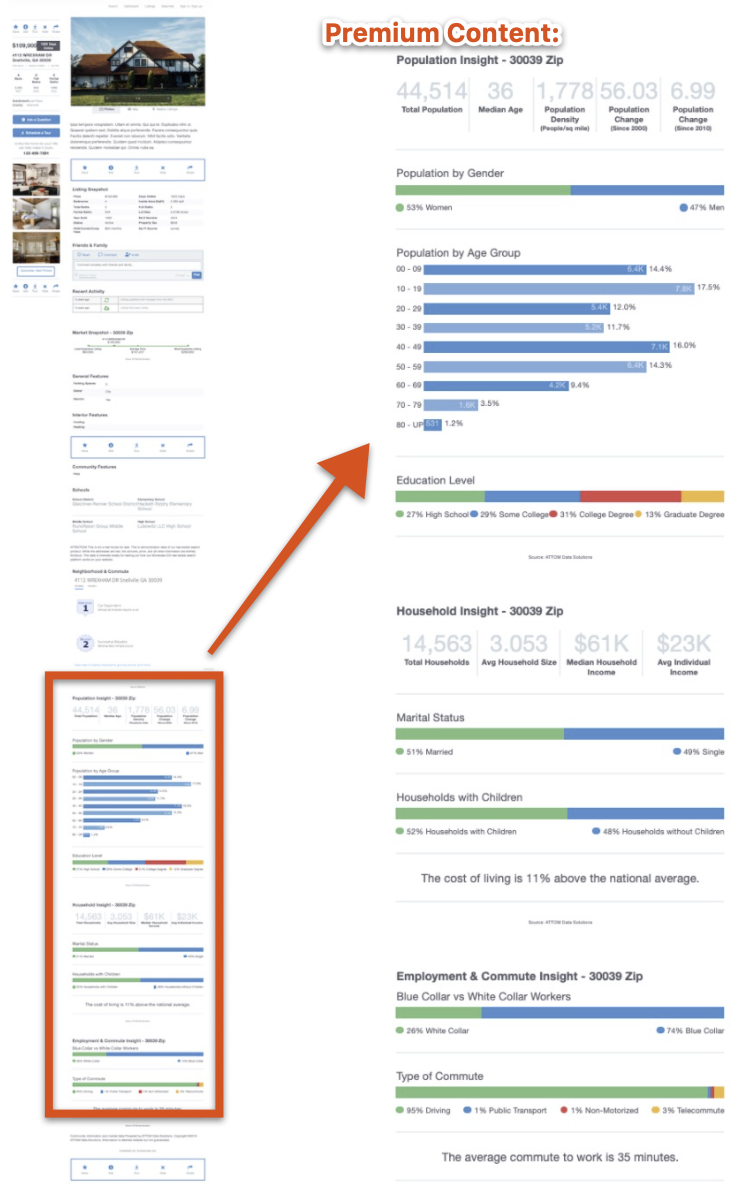 Do My Listings Look Different Depending on the Plan?
Here's a side-by-side comparison of what your listing detail page look depending on the plan you choose.

Plan Pricing
Now, let's talk about some pricing considerations!
Essentials Pricing:
$74.95/mo 1 website license
$35/mo each additional website license
2 free users
Premium Pricing:
$119.95/mo 1 website license
$55/mo each additional website license
5 free users
We also offer yearly pricing options.
Still not sure? We recommend signing up for our free trial, which has all of the awesome Premium content unlocked for you to try!