In Showcase IDX 3.0, hotsheets are based on previously created Saved Searches, meaning you can create a hotsheet, add the shortcode to your WP site, and then never have to touch it again: changing which listings are displayed is as easy as modifying the underlying saved search, meaning less hassle building and updating your featured listings and community pages.
You can also find more information and video instructions of this tutorial.
To start, make sure you have created a SAVED SEARCH.
Once your search is set up, navigate to the HOTSHEETS tab of your agent admin (admin.showcaseidx.com). You will be greeted by the following screen: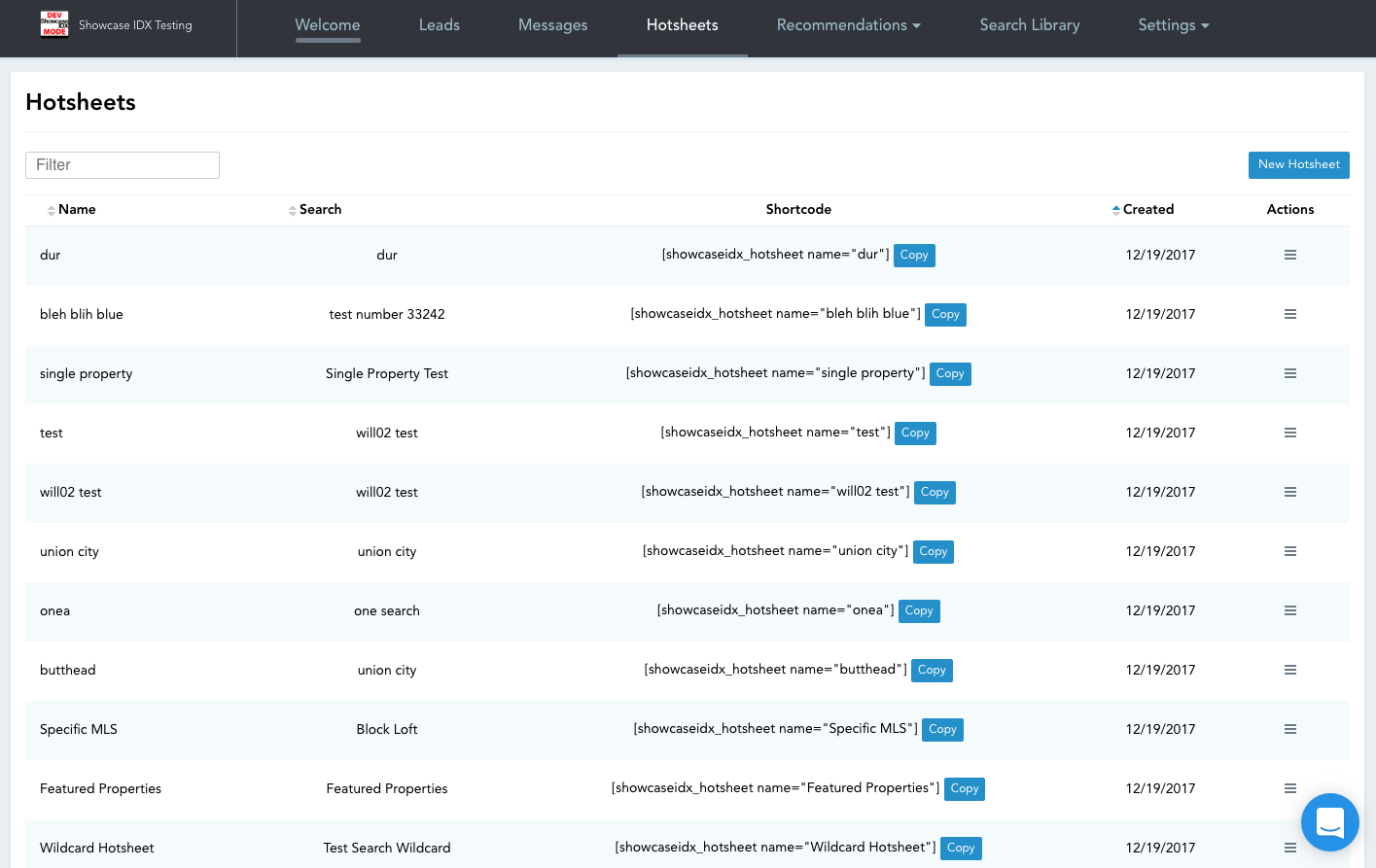 This is the Hotsheets library and shows all hotsheets that have been created. To create a new hotsheet, click the NEW HOTSHEET button in the top right of the page.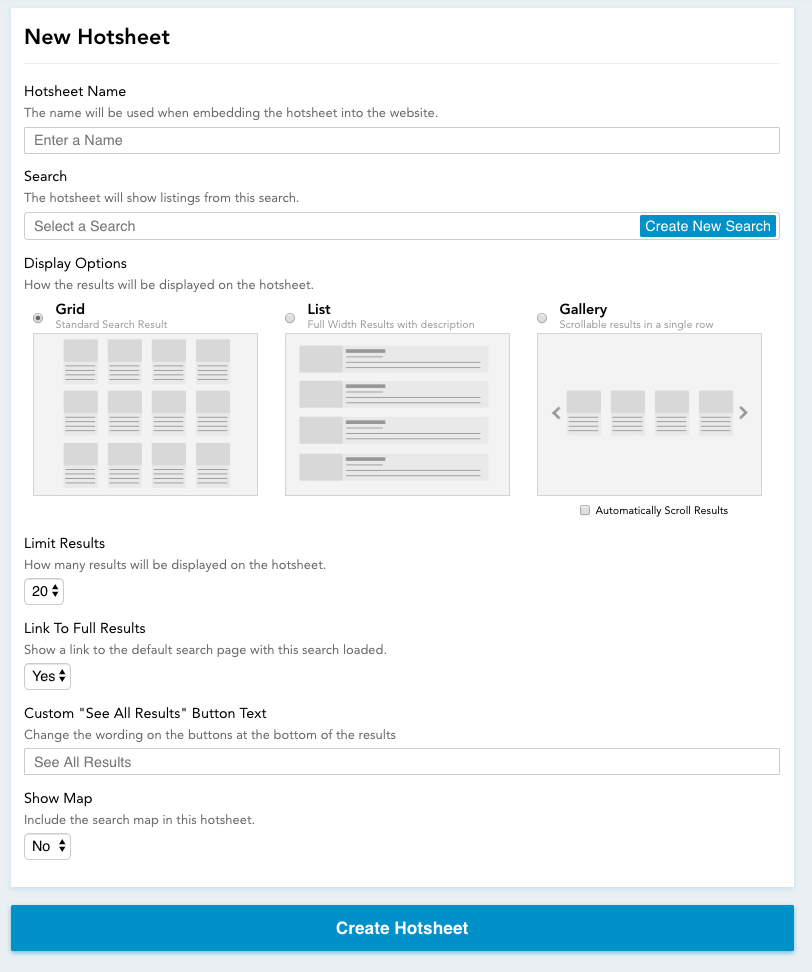 The New Hotsheet page is where you create a new hotsheet to add to your website. Make sure to give it a descriptive name before you move on.
NOTE: Avoid special characters like &, + or ' in the hotsheet name as these can break the shortcodes and cause them not to render correctly in WordPress. Additional spaces at the end of a hotsheet name can also break a shortcode. Here are some examples of bad shortcodes: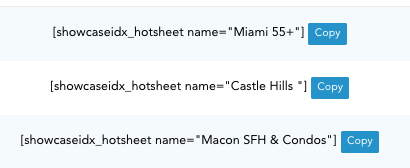 Once you've named your hotsheet, you can click into the SEARCH line and see a list of all previously created SAVED SEARCHES: the search you attach to this page will determine what listings are shown in the hotsheet: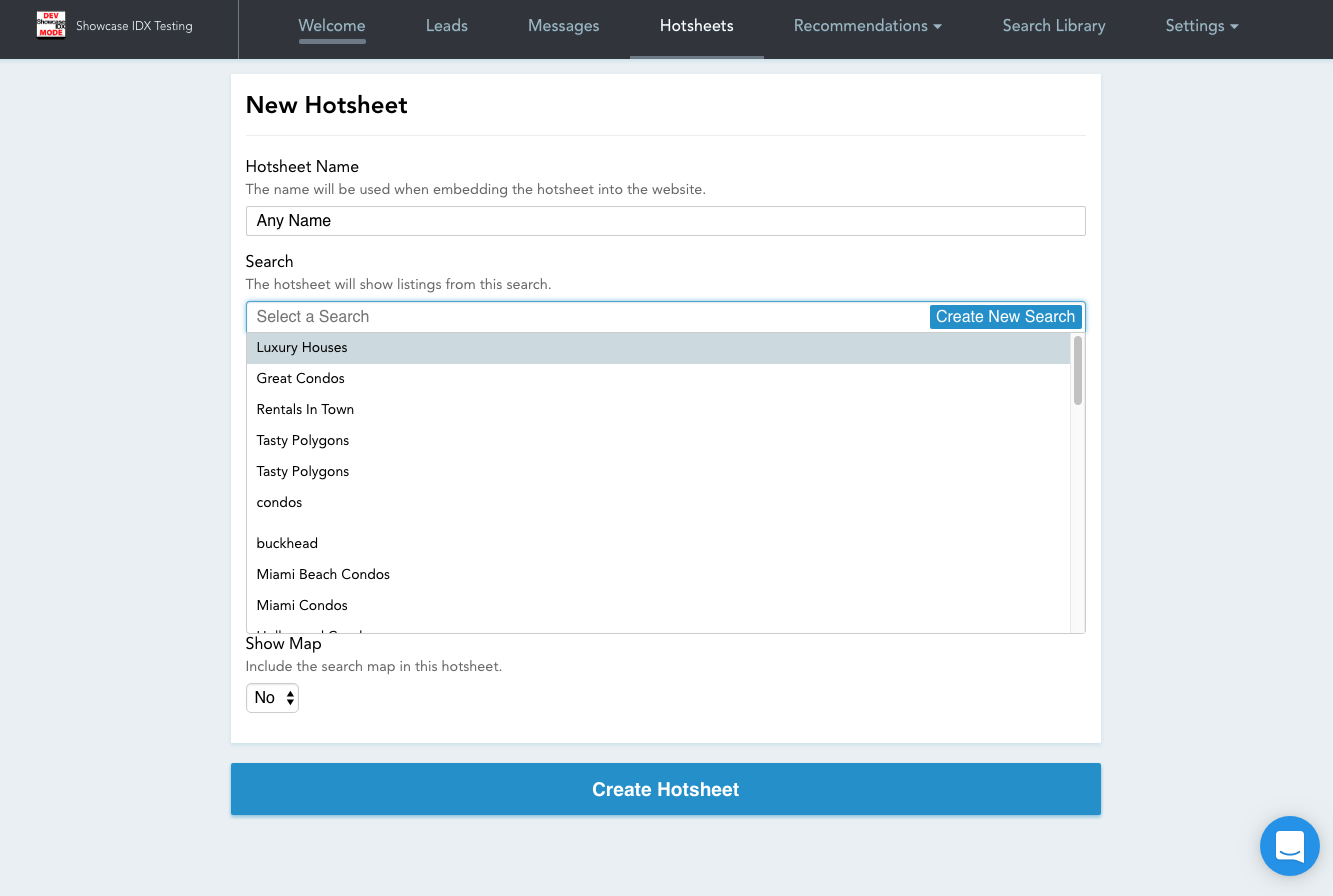 The display options we offer are Grid, List and Gallery. The Gallery option can also auto-scroll through listings.
You can also choose to show or hide the MAP, as well as limit the number of listings returned in the hotsheet (up to 60 listings). Lastly, you can choose whether or not you want to include the "SHOW ALL LISTINGS" button on the bottom of the hotsheet; you may want to hide this if you are trying to highlight specific listings on a page.

Once everything is setup as you'd like it, simply click the big, blue CREATE HOTSHEET button and you will see your new hotsheet appear at the top of your Hotsheet Library. Add the accompanying shortcode to your page, and your hotsheet will appear!

Need to make changes to the listings being displayed? You don't need to touch the hotsheet! Simply go to your SEARCH LIBRARY and edit the underlying saved search; your hotsheet will automatically update to show the new listings!
If you want to change the display, like from grid to gallery view, just edit the hotsheet in your hotsheets section and your website will automatically update without you even having to touch the shortcode.
Want a step-by-step guide that shows you how to build hotsheets that will rank on Google? Click here for an in-depth guide that will show you exactly what to do.