Showcase IDX offers the ability to set up a customized "forced registration" system on your site to help you generate more leads. In prompting your website visitors to sign-up on your website, they will be entered into the system under your Lead Dashboard, which allows you to make contact with them, offer insights and send searches.
This can be found in your IDX Control panel, under the Settings tab > REGISTRATION.
Video Tutorial
You can also find a video tutorial of these instructions.
Registration Settings
When configuring registration settings, you will be choosing when a signup form will popup on your website for users. If you have Admin level permissions on your account, you can make adjustments to these settings. Just as every homebuyer is different, there isn't a one-size-fits-all equation for success on choosing these settings, so you may do a bit of trial and error to see what works best for your target demographic.
What Does the Registration Lock Look Like?
The registration lock, as mentioned, will simply be the signup form as shown below.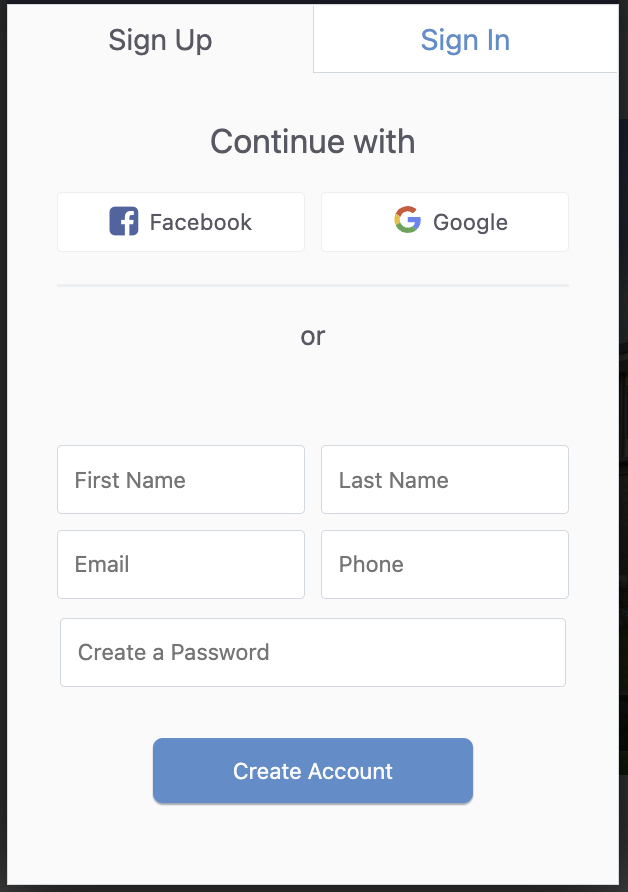 Listing Detail Page Views
While we don't typically recommend putting a restriction on listings, you're empowered to choose that as an option, if you'd like. Toggling this to the left will turn it "off."
Toggling this to the right, to the "on" position will allow you to block users from seeing listing detail pages until they have registered for your site. In togging on, you will also choose the Soft Prompt or Hard Prompt option and the number of views required for this registration setting to be triggered.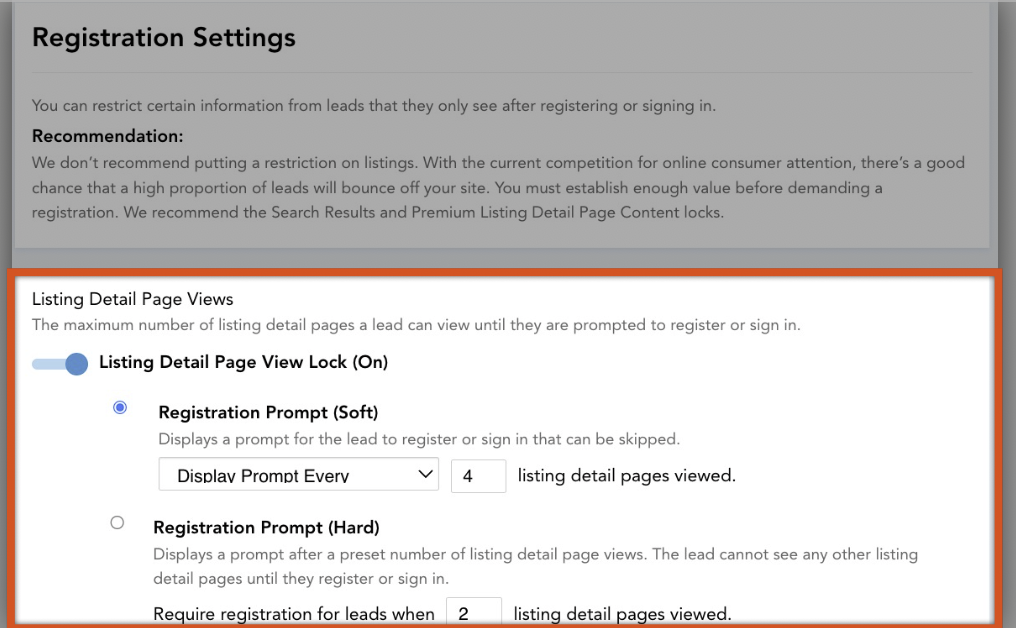 Soft Prompt Option
The Soft Registration prompt will allow you to set a limit of Listing Detail page views before a signup form pops up on your site. This setting allows users to forgo registration by clicking the "x" and continue viewing listings. You can set this to prompt once or every certain number of listing views.
Hard Prompt Option
The Hard Registration prompt is similar to the soft prompt, however users will be required to sign-up in order to view more listings. They cannot close the popup.
Number of Listing Views
Once you've toggled the feature on and chosen the Soft or Hard option, you will also need to choose how many listing page views are required before the signup form pops up.
Our PREMIUM PLAN users will have access to additional registration prompts:

Search Results Lock (Premium Feature)
The Search Results Lock forces registration after a certain number of search result pages have been viewed. This means when a user goes to your default search page, that will count towards this lock. If they click into a new page of results, that will count as their second view, and so on. It is not recommended to set this to 0 as it will lock out your search entirely for non-registered users. This setting is a hard prompt.
Premium Listing Content (Premium Feature)
Showcase IDX offers a lot of Premium Listing Content, such as population insights and commuting insights. More details around the Premium Listing Content can be found here. You can lock this information behind a registration wall, giving users even more incentive to register for your site.
Phone Number Required
You also have access to the Phone Requirement setting, which determines if phone numbers are required for new registrations. Showcase recommends you leave this OFF.