Showcase IDX offers the ability to set up a customized "forced registration" system on your site if you so choose. This is also the page where you can set phone number requirements for your registering users.
You can also find more information and view a video tutorial of these instructions.
Located in the SETTINGS section of your admin dashboard, the REGISTRATION page is fairly simple and straight forward: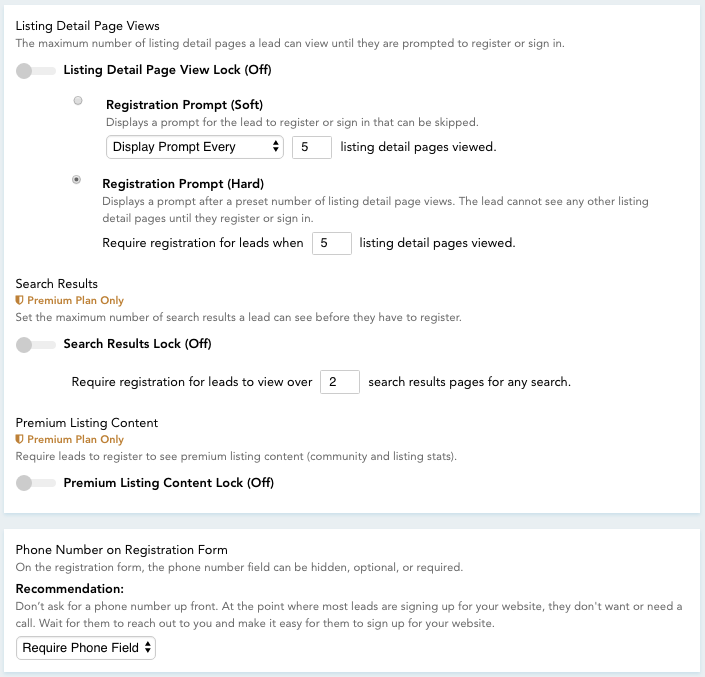 ALL users have access to the LISTING DETAIL PAGE VIEW LOCK, which will allow you to block users from seeing listing detail pages until they have registered for your site. This is done by choosing a PROMPT type and determining how many listing views will trigger the prompt. You have 2 different ways to do this:
SOFT
The SOFT Registration prompt will allow you to set a limit of Listing Detail page views (including 0 to force the registration prompt every page view) before an ESCAPABLE registration modal appears. This allows users to forgo registration and continue viewing listings, while still prompting them to register in a meaningful way.
HARD
The HARD Registration prompt is similar to the soft prompt, however the modal is NOT escapable and users will be required to sign-up in order to view more listings.
All users also have access to the PHONE REQUIREMENT setting, which determines if phone numbers are required for new registrations. Showcase recommends you leave this OFF if possible.
PREMIUM users will have access to additional registration prompts:
SEARCH RESULTS LOCK
The Search Results Lock forces registration after a certain number of search result PAGES have been viewed; that means when a user goes to your default search page, that will count towards this lock. If they click into a new page of results, that will count as their second view, and so on. It is not recommended to set this to 0 as it will lock out your search entirely for non-registered users.
PREMIUM LISTING CONTENT LOCK
Showcase IDX offers a lot of premium listing content, including market reports and Walkscores thanks to our partnership with Onboard data. You can lock this information behind a registration wall, giving users even more incentive to register for your site.
Once your registration settings are set up as you'd like, simply click the SAVE SETTINGS button and you're all set!