Please login by visiting the admin login page: https://admin.showcaseidx.com/
Logging In
If you forgot your password, please use the Forgot Your Password? link. You should receive an email from no-reply@showcaseidx.com with instructions to reset your password.
Note
You will need to use the correct email address associated with your account. You will not receive a notification or email to reset to a different email.
If you just signed up, you may still be waiting on MLS approval before your login information can be sent (it's common for this to take several business days once you've signed up). Once everything is ready for your new account, you will be emailed your Username and a temporary Password. If it's been more than 4 days, please email us at help@showcaseidx.com. 
Change Your Password
If you have Admin* level permissions on your account and have already logged in, using the Users tab of the Account Command Center, you can update your password as well as any other users on the account. If you have changed a password for someone, you will need to inform them of the updated password.

To update a password, from the right User panel, click the blue hyperlink of the person who needs their password reset.  Once clicked, the left 'Edit User' container will update with the selected person.  The Password field will always appear blank.  To change the password, simply type a new password then click the blue "Save User" box.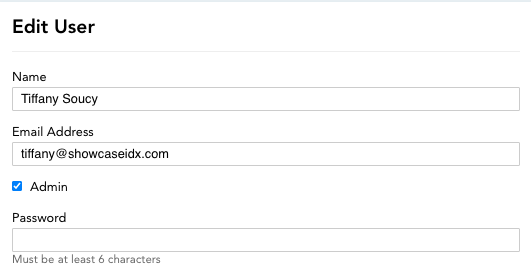 *You will only be able to access the Users section if you have Admin level user permissions. If you do not have full admin rights, you will need to use the Forgot Your Password link on the login screen, request a password update from the account admin, or contact Showcase IDX Support (help@showcaseidx.com).