Yes! Showcase IDX supports Coming Soon status in markets where it's available. Check if your MLS has support for Coming Soon status by visiting our MLS Coverage page and checking the details for your MLS.
How do these listings show up on my site?
Coming Soon listings will display just like any of the other listings on your website, but will say "Coming Soon" as the status, as shown in the image below.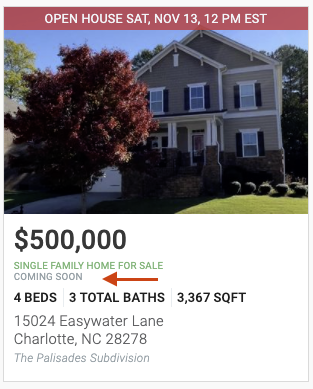 How do I filter Coming Soon listings?
Site-Wide Settings
If we support Coming Soon status for your MLS but there are no listings in the MLS that are of this status, then you will not see the status available for filtering.

In your IDX Control Panel, find Settings > Search. On this page, scroll down to the Search Restrictions area and take a look at the Status filter option, as shown below. If you do not want Coming Soon listings on your website, you can uncheck the box next to the status to remove them from your website entirely. Otherwise, the status will automatically be checked for you, and Coming Soon listings will display on the site.

Make a Hotsheet
You can make a hotsheet to showcase listings that are Coming Soon on a page on your website. This lets visitors know that inventory will be available soon and they'll be the first to know!
To set this up, navigate to the Search Library and create a new search. Using one of the search forms available, under search filters, find the Listing Status section to choose the Coming Soon status. The screenshot below shows the status option from the Streamlined search.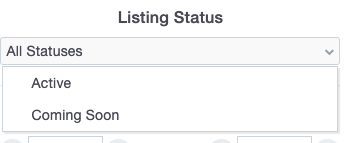 If you don't check a specific status, the search will show listings of every status. If you only want to show Coming Soon listings, select that status, add any other filters you want, and save the search. Set up a hotsheet as you would normally.
Consumer Search
If you decide to forego making a Coming Soon specific hotsheet, as referenced above, visitors can still filter Coming Soon listings on your site. They can navigate to your main search page and use the Listing Status filter. In the video below, this search is conducted using the Streamlined search as the consumer search interface.