Showcase IDX gives you the ability to separate your specific agent or office listings from the rest of the MLS feed to display on pages around your website. It's really simple and we're going to show you just how to do that in a few steps.

First things first, check that you have entered your Agent and Office IDs in the USERS section of your agent admin. Upon login, you will see 4 tabs:






(You can get back to this section at any time by clicking on the logo in the top left corner.) Click on USERS. It will open a new page where you can see your current users, add a user and delete a user. Select a user from the ones you have already and it will open up their information that looks like this: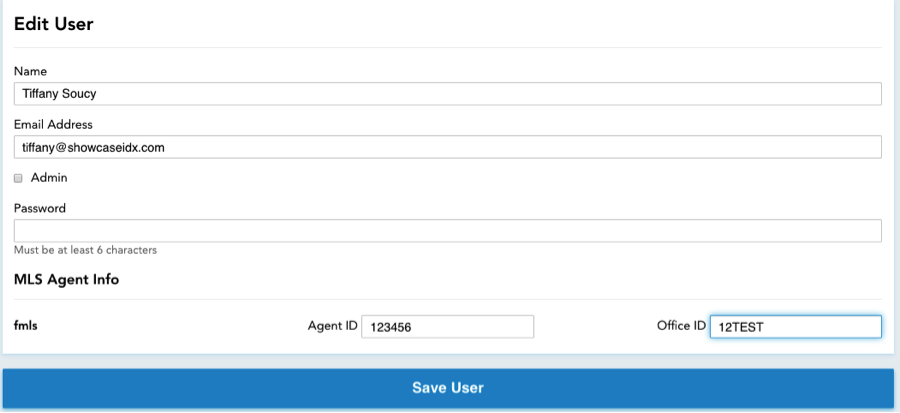 Enter the Agent and Office IDs in the spaces provided under MLS Agent Info. To add another agent, create a new user FIRST and then click on that agent from your list to expose the MLS Agent Info section.
Once you've entered your IDs, head over to SEARCH LIBRARY and create a new search. You can follow along with the directions from this support article.
On the page that opens up with the search and map, scroll down to the bottom to find Agent/Office Filtering. Your IDs will display here with a checkbox. Simply select the ID you want to filter from and finish setting up your search. Once you've saved your search, you can set up a hotsheet.


Agent and office IDs are case-sensitive. Make sure that you are entering your IDs exactly as they are in the MLS or they will not work. Learn how to troubleshoot this issue here.
For some MLSs, we get co-listing agent information. If an agent is a co-listing agent on a listing for a supported MLS, you may see these in the results when filtering by their agent ID.