Add a Featured Listings page to your website to highlight your listings!  If you have Admin level permissions on your account, you can create a Featured Listings hotsheet for your website or even display on agent dedicated bio pages!
Step 1. Confirm Agent/Office ID Numbers
First things first, if you haven't already, it's best to double check that you have correctly entered your Agent and Office IDs in the Users section of your Account Command Center, under the Users tab.
From the 'Users' container on the right side, click the blue hyperlink of the person. Once clicked, the left 'Edit User' container will update with the selected person to view the Agent ID or Office ID. Each MLS will have a unique Agent ID and Office ID.
Please note it is imperative that these IDs are entered correctly.  They are case-sensitive and should be entered exactly as they are in the MLS.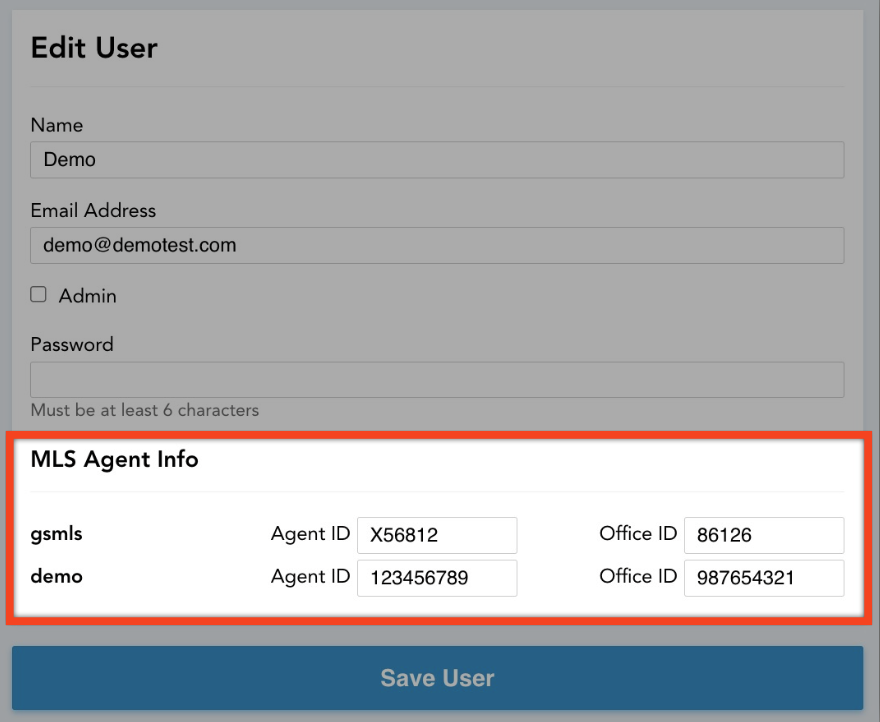 Not having the correct Agent/Office IDs is the most common reason for your Feature Listing page to not display listing results. Please see this article for how to troubleshoot. 
Step 2. Create Your Search
Once you've confirmed your IDs are correct, head over to your IDX Control panel Search Library tab to create a new search.

Follow the instructions for how to create a search.
Be sure to scroll down to the bottom to find Agent/Office Filtering section.
As each User will have their own unique Agent/Office ID number, you'll see all account User's Agent/Office IDs displayed here with an available checkbox.
Simply select the ID(s) checkbox(es) you want to display and complete setting up your search by clicking the blue "Save Search" button.
Once you've saved your search, you'll move on to the final step, which is creating the hotsheet shortcode.
Step 3. Create the Hotsheet
The final step is to convert the saved search you just created in the step above into a hotsheet, which is the shortcode needed to embed in your WordPress.
You can follow these instructions to create the hotsheet.
For some MLSs, we get co-listing agent information. If an agent is a co-listing agent on a listing for a supported MLS, you may see these in the results when filtering by their agent ID.