We've made it simple for you to get started and familiarize yourself with your new IDX dashboard by providing a Welcome Screen that walks you through and tracks your progress of setting up all your basic IDX settings. We also supply all customers with a "5 Steps to Success Checklist" at account signup.
5 Steps to Success Checklist
This guide will take you through the most beneficial flow for setting up your IDX, as well as highlight our most coveted features to get your website off to the right start!
You're starting point will be to first login to your WordPress site and install the IDX plugin. When installing the plugin, please be sure to walk through each of the provided steps in detail. Often the result of your IDX not working properly is that a step was missed during the install process, so be sure to take extra care in completing them!

The IDX Control Panel is where all the magic happens. Be sure to bookmark admin.showcaseidx.com for ease of access! You'll first want to update your password to secure your account. Then click on your "first website"to start customizing your brand and make selections on search parameters that will feed over to your website. Our video tutorials are especially helpful. Check them out here!

Community Pages are a great way to highlight a specific area, community, neighborhood, etc. that is in your area of expertise. By adding a community page to your website, it gives your client confidence that you know the particular area like the back of your hand, and can quickly see the available properties for said area. You'll start in WordPress by first creating a page that talks about all the wonderful things you want to mention about the specific area, community, or neighborhood. Visit our example community page. Once the WordPress page is setup, it's ready to add a hotsheet matching the criteria for that page where clients can search homes on the market in the highlighted area of the community. Learn more about why community pages are crucial for your real estate website.

Highlight your personally listed properties, or the properties for your entire office. Many agents display these on their homepage as a listing carousel, or add page accessible from their navigation menu. We call these "featured listings".

Take advantage of all the ways we offer guidance!
Support Center
Chat inside your IDX Control Panel
Join Live Demos weekly! Register here to get up close and personal with our team in a live Q&A session and overview of all things Showcase IDX

Welcome Screen
To locate your Welcome Screen*, login to your admin.showcaseidx.com account, click on your website name and you should see the "Welcome" tab to the left of your Leads tab.



Alternatively, you can find it under the Settings dropdown.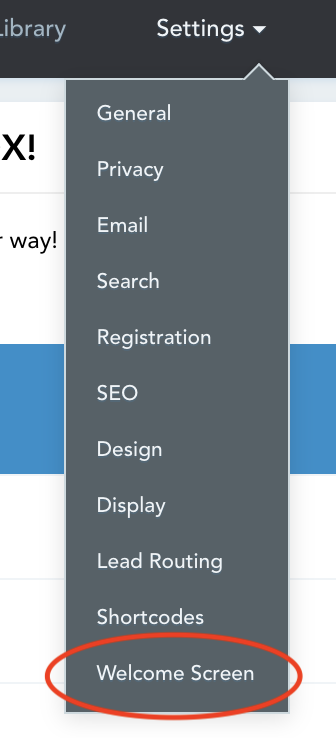 *If you're not seeing the Welcome Screen, you may need to contact the Admin on your account as you do not have Admin level user permissions.
Settings To Update
On this Welcome Screen, you can find some items like set up your website basic information, configure your registration settings, change colors and fonts, etc. Click "update" on the right side of the menu to take you through the sections.
You can also find more information and a video tutorial of these.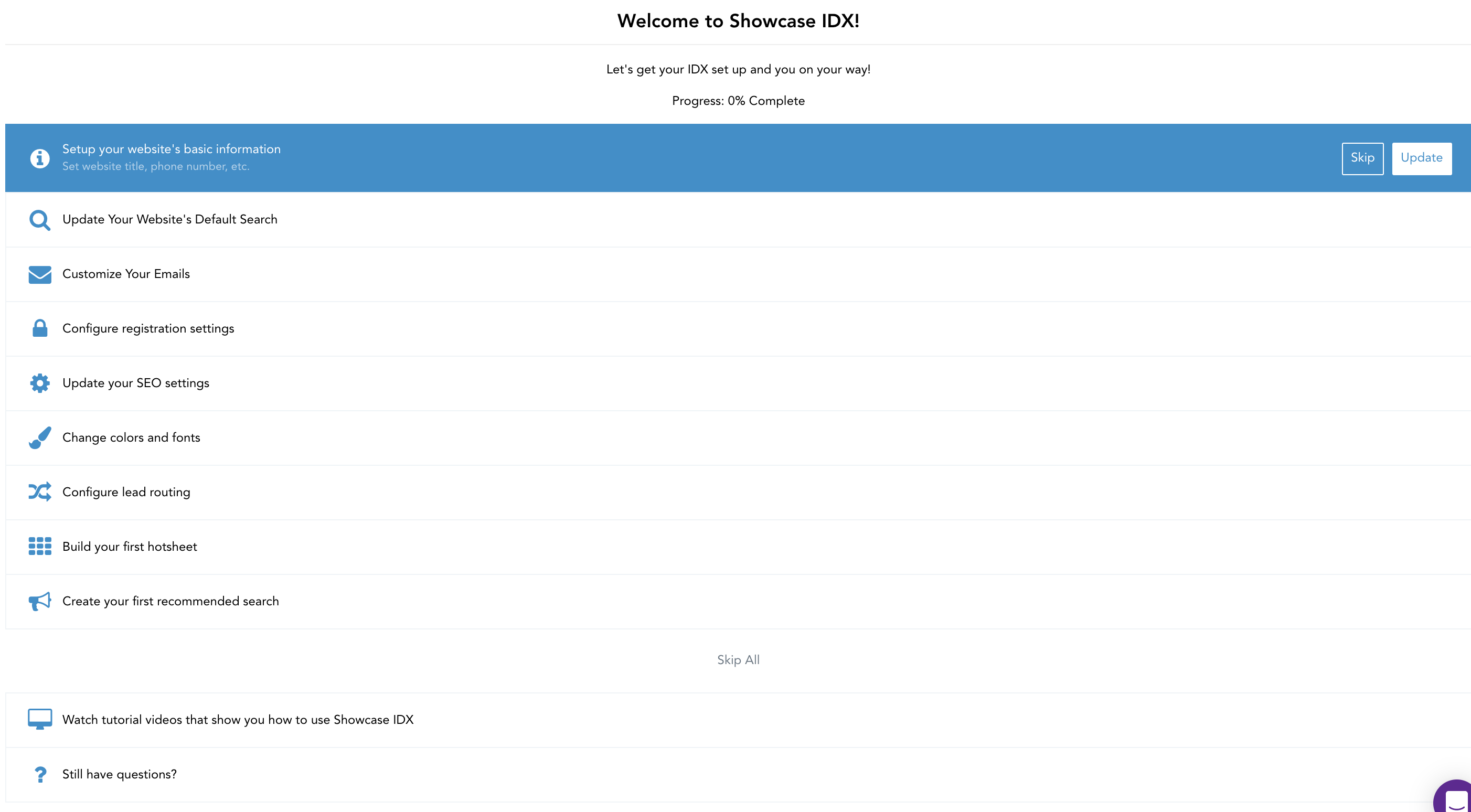 Deep Dive into Each Setting
If you need more information on each setting, please check-out the Settings Section in our Support Center
Note
Also, we highly recommend tuning into one of our Live Demos. We'll walk through the majority of these settings and can answer any lingering questions, help you navigate the admin and go over some best practices to help you get the most out of your free trial and hopefully, your long standing relationship with Showcase IDX.