The Users tab is where you will set up your team and the users who will have access to the same admin area. You must have Admin level access to view this tab and make changes.

Pricing
Showcase allows you up to 5 free users on the Premium plan or 2 free users on the Essentials plan. Additional users are available starting at $4/month per user. Here is the full pricing breakdown:
Essentials
Essentials - 2 free users
3-10 Users: $4/mo/user
11-50 Users: $3/mo/user
51-100 Users: $2.50/mo/user
100-200 Users: $2.25/mo/user
200+ Users: $2/mo/user

Premium
Premium - 5 free users
6-10 Users: $4/mo/user
11-50 Users: $3/mo/user
51-100 Users: $2.50/mo/user
100-200 Users: $2.25/mo/user
200+ Users: $2/mo/user
Adding a New User
If you are an admin on the account and intend on a teammate having leads routed to them, you should create them as a user here, under the Users tab.
If you use a 3rd party application as a CRM, you may not need your team added as users (depending on your setup), but if you plan on using Showcase IDX's integrated lead routing system and want to subscribe your leads to searches on your website, you will need an independent user for each team member who will be receiving lead info.
You will add their name and email address as well as create their first password, which serve as their login credentials. You will then need to provide them with this information for them to login. They will not receive any notification that they've been added to the system.
Note
It is imperative that the Office and Agent ID's entered are correct. If not, creating a Featured Listing page for that agent will not yield any results. (For example, if in the MLS, the ID is all caps, and you entered the ID as lowercase, the ID will not work.)
Showcase IDX only supports 1 Agent ID and 1 Office ID per user per MLS.
If you are a team leader encompassing multiple offices or will be representing multiple agents, you will need to have a unique e-mail for each user (even if those e-mails are junk) and attach an agent ID and office ID to each user from there.
User Permissions
Each user has 1 of 2 permissions: Admin or Member. This is designated by the "Admin" box when adding or editing a user.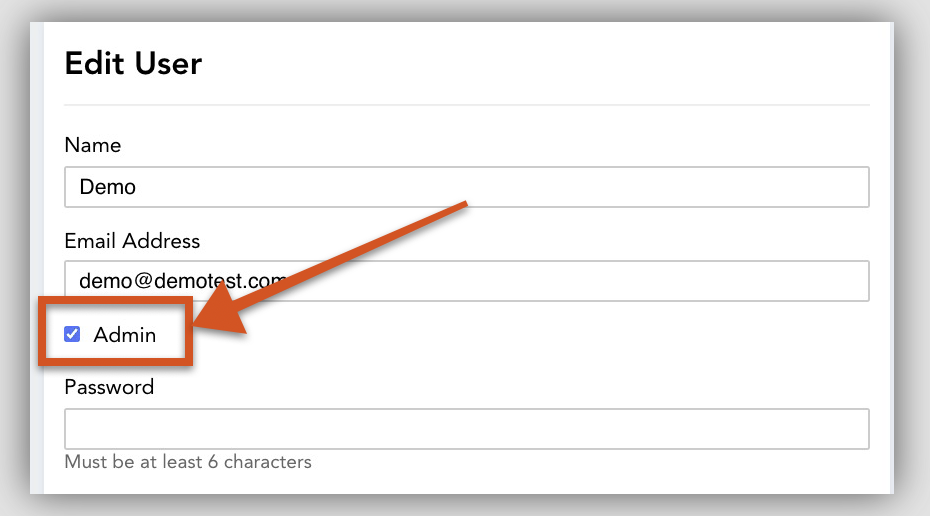 If the admin box is checked, that user will have admin level access to the account. They have full access to all leads (regardless of who they are assigned to) as well as access to account billing, all IDX settings, hotsheets, searches, users, etc.

An Admin dashboard will look like this:

If this box is left unchecked, that user will have member level access to the account. They will be restricted access to Websites tab only, so they would not have access to account billing, users tab or integrations. Within the system, they will have a restricted dashboard and can only access the Leads, Messages, Recommendations and Search Library tabs. Additionally, they can only see the leads assigned to them, their messages, their recommendations and their searches that they own.

A Member would not be able to adjust any lead routing settings or create hotsheets, so an account admin would need to do this for them.

A Member dashboard will look like this:


Editing a User
You can edit a user already created by selecting them from your list of users. Just click on their name to open the edit user form. You can update their password, set or revoke admin status, update e-mails, Office IDs, and Agent IDs. They will receive a notification of their password being changed.
Deleting a User
If you want to delete a user, simple click the red delete text next to the user's name on the right side. You will be prompted to reassign any leads, searches and hotsheets that the user owns to someone else on the account.