It's possible to have multiple websites under one account. Your account Users will have the same access to any additional websites. Adding additional websites may be beneficial as there is a cost savings for the second website (see pricing below). This can be found in your Account Command Center, under the Websites tab.
Multiple Websites or Multiple Domains
If you have multiple domains pointing to just one website, then just 1 IDX license would be needed.
If you have multiple websites, each website would have its own IDX search and client management system but can be managed under one account.
How to Add Another Website
You can add a website to your account under your Websites tab of the Account Command Center. Your additional website will have its own settings, separate from your first site.
Create Website: Enter the name of your additional website in the 'New Website' Name field. This website name will be the site title that displays in the emails sent to your leads. Click the blue 'Create Website' button
Site is Pending: The newly created website will now be listed under your website names. You'll notice that the status of this new site is 'Pending.' Your new website is not yet active.
Contact Showcase Team for Website Activation: This website will remain in 'pending' status until activated by our team. In some cases, your MLS may require additional paperwork to be completed for each website you wish to add. You will need to contact us to complete the activation of this site at help@showcaseidx.com.
Complete Website Settings: Similar to completing the Welcome Screen of your first site, you will want to review your General Settings for this site.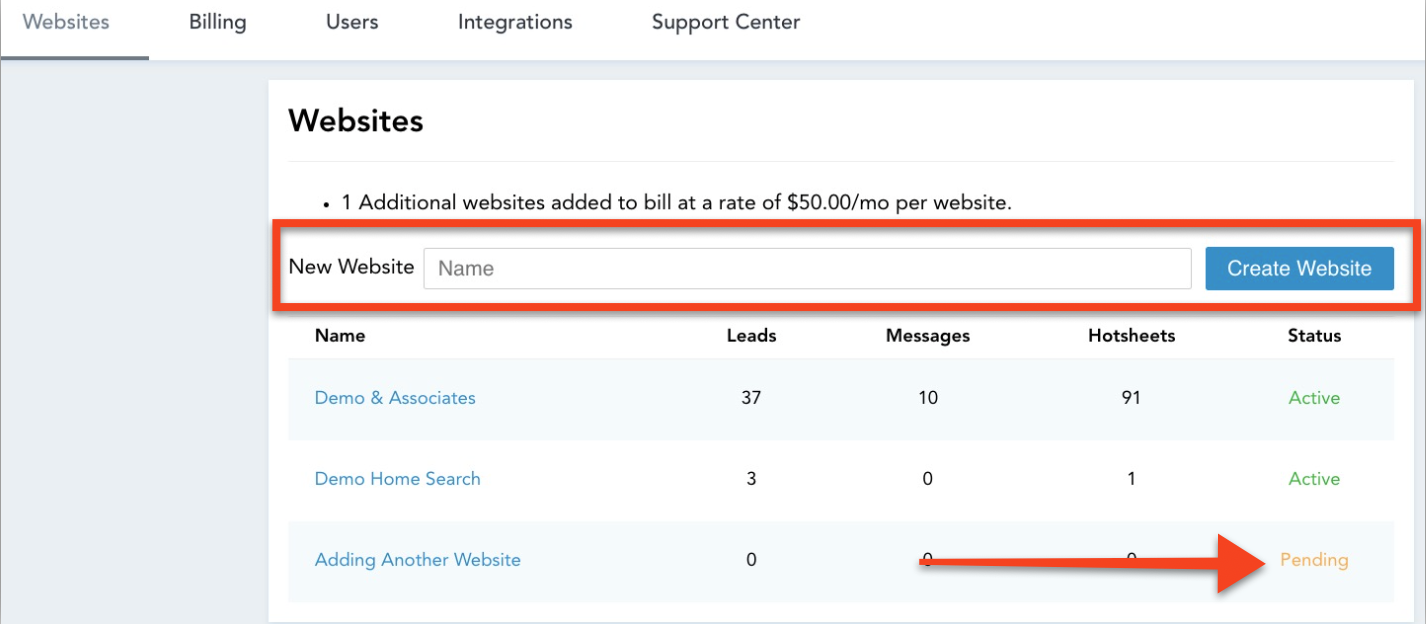 Cost for Additional Websites
There is an additional cost for having multiple websites on an account. You will also be responsible for the pass-thru fees of any additional sites.Visit here to learn about the pricing.