If you notice that your widgets are displaying this error message, there are a few things you can try to troubleshoot the issue.

First, right-click the error message and click 'inspect' to open the developer tools in the browser.

This should highlight the element in the window where you can try exposing more about the error message.
Copy and paste the message in green and email help@showcaseidx.com. From there, we will be able to decipher the message to determine the cause.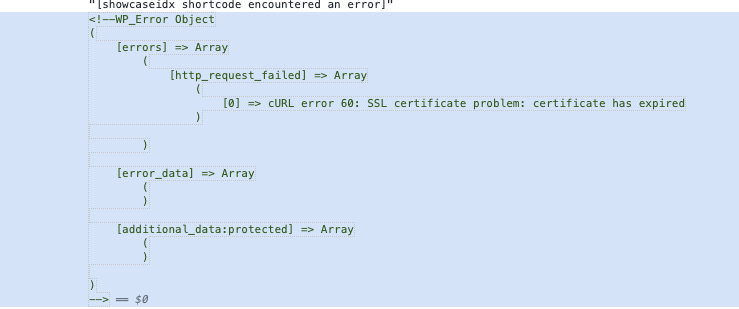 If the error message specifies SSL certificate problem, as shown above, you can try restarting your host, and/or rebooting php-fpm. This will be specific to your hosting company, so check their support resources or contact them directly to see if they can do it for you.

If the error persists after rebooting attempts, try uninstalling the IDX plugin and reinstalling the plugin.

Additionally, check your current version of PHP. If you are using an outdated version of PHP, this may be causing the issue. Upgrade to a more recent version of PHP. Visit here to check the most recent version of PHP.