When you list a property on the MLS and it is set for Internet display, the data becomes available for vendors like Showcase IDX for download. Our system is scheduled to download all new listings and property updates from each MLS and make it available on your website. If you input a property into the MLS and it does not display as you expect within a reasonable amount of time, there are a few things to check before contacting support.
Internet Display
If the listing is your own, double-check that you have included the property for Internet Display when you listed it with your MLS. This is usually a checkbox or a yes/no option for each individual listing in your MLS back office.
If you don't own the listing, you may not be able to see if the internet display option is checked. You might try contacting the listing agent to find out.
If the property is not set for Internet Display, update the listing and we will catch the listing on our next download.
Are you searching for it correctly?
If your listing is already set for Internet Display and you still cannot find it on your website, try looking for it in a different way.
If you already tried the address, try searching by MLS ID. Occasionally, the format of the MLS ID will be slightly different, like an omission of a dash in some MLSs or it might have a prefix that was included. (For example, RX-1547826 in our system may just be 1547826 without the prefix and dash)
What status is the property?
Showcase IDX does not show all statuses that might be available in the MLS (like sold, withdrawn, expired). Vendors are restricted to only show certain statuses and these vary from MLS to MLS. (For example, some MLSs may not provide Coming Soon, or Pending listings)
You can review the supported statuses for your MLS by checking your search restrictions. If you have a question about the statuses we get, feel free to contact support and we can answer your concerns.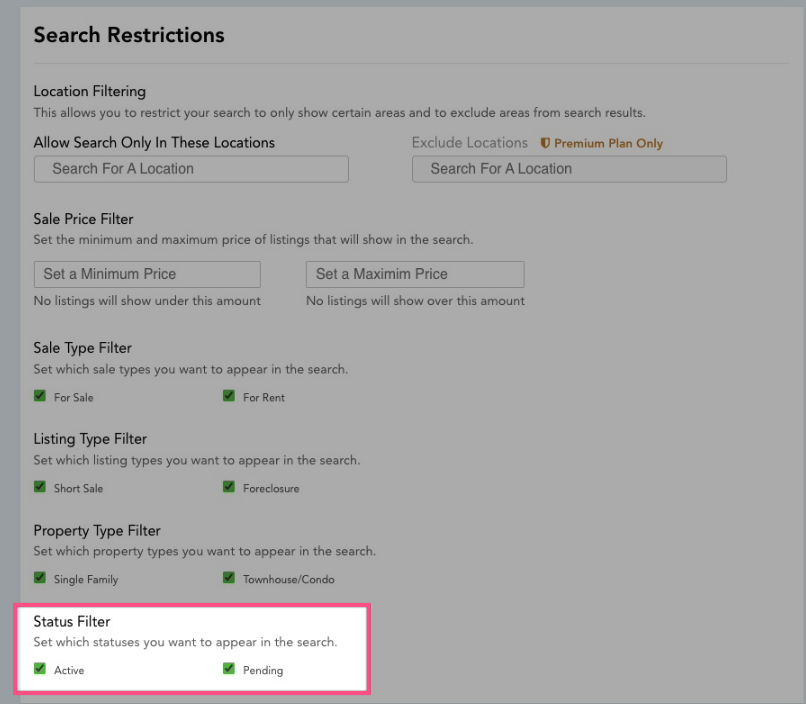 When did you list the property?
We try to get MLS updates and new listings as fast as every 15 minutes for most MLSs, while others might be a little slower. Sometimes, there can be a lag between when you listed the property to when it became available for download to when we found the listing for download and actually processed it. Try waiting to see if we pick the listing up in a later download attempt.

Featured Listings Hotsheets
If your listing is showing up on the website but not displaying on your Featured Listings, Agent Listings, or Office Listings hotsheets, there could be an issue with your Agent or Office ID. To find the correct ID, you can email us (help@showcaseidx.com) with the MLS ID for the active listing. We will do a reverse lookup in our database to find the correct ID.


Note
Showcase IDX does not recognize co-listing agents or buyer agents on properties. You will need to be the main listing agent in order for us to pull the listing properly on these hotsheets.
Check your settings
Visit this knowledge base article to further troubleshoot the issue by checking your settings. Your settings can play a big part in missing listings. And if the listing should be showing in a search, you might try checking the search criteria.
If nothing else works
If you are still not seeing your listing populate on your website, we can help troubleshoot the issue. It is possible that there is an issue in the data sync between us and the MLS. We will be able to determine this for you.
Support will typically check other IDX or real estate websites to be sure that the listing is available. We suggest that you perform an internet search for the property to see if it is being picked up by other IDX services, or provide in your email a snapshot of the listing in the MLS that shows the status.
Also, please provide as much identifying information about the listing as possible. Include the MLS ID, the MLS you are you using, and the URL of your website. Providing such information will help us troubleshoot the issue.