We put a lot of research and development into our listing pages. They are designed to effectively convert leads on your website with our simplified design. We display what your consumers want and expect to see when looking for a home!
The body & heading fonts of the listing detail pages can be customized in your Design Settings.
When your customer clicks on a listing, this is the listing detail page they see: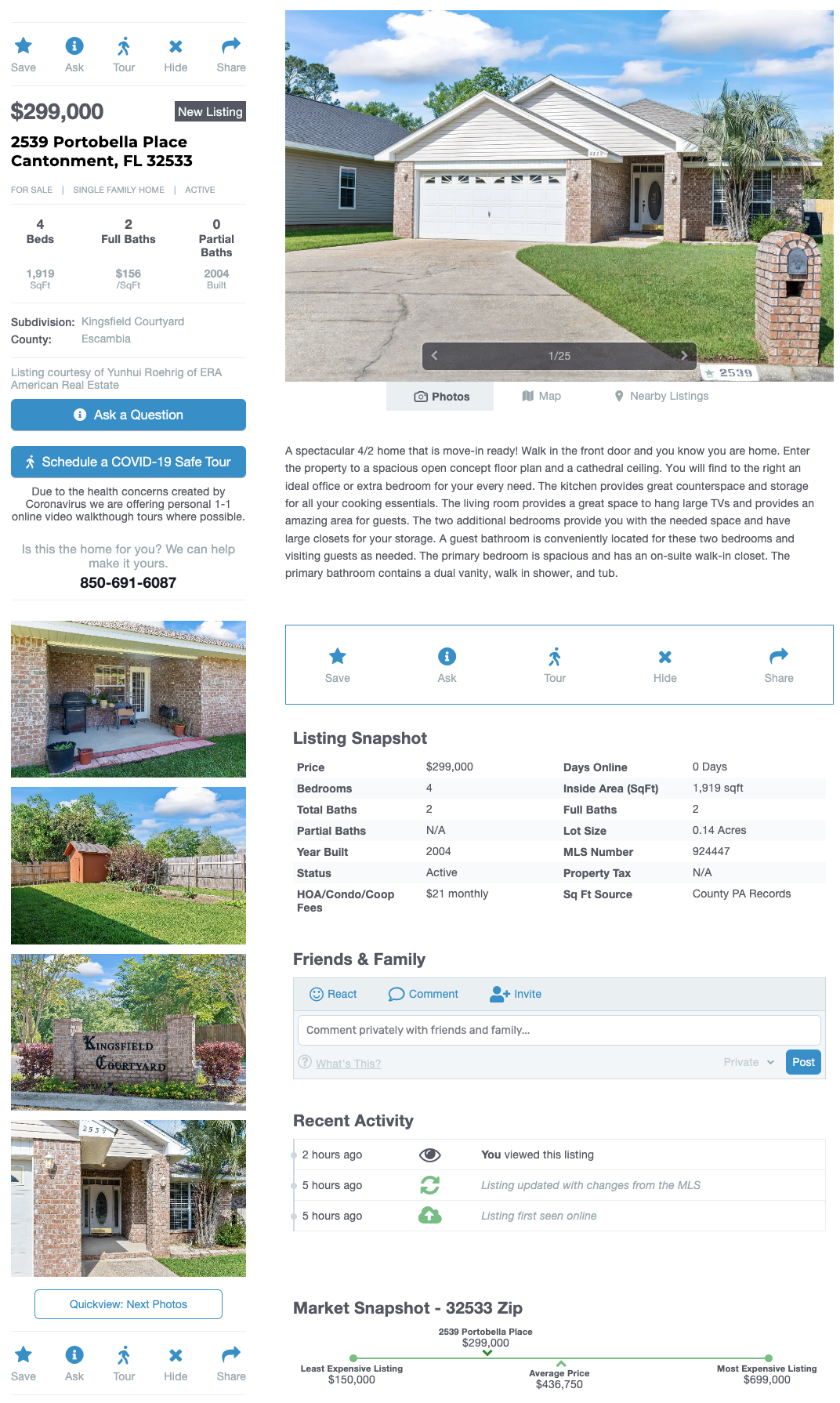 SEO Boosting Listing URLs
The listing pages are dynamically created and displayed instantly upon activating your plugin on your website. The listing URLs of these pages stem from the default search page URL which means we don't link off your website. No subdomains, EVER. All the listings look like they are coming from your server like it's native WordPress content and are fully indexable. These pages are SEO-friendly and will help boost your SEO!
We've added schema.org structured data tags around the key pieces of information which helps Google determine which information is the most relevant and important on your page. We also include ALT tags on images that provide a text alternative for search engines.

Listing Navigations
Our listing detail pages have listing navigation breadcrumbs at the top to either view the Previous listing, Next listing or go Back to Results. These navigation options display when visiting a listing URL from the default search page. These navigation options do not display when visiting a listing URL directly (say from an email or a social post) or via a hotsheet. This listing navigation can be customized with CSS in your Design Settings.

There are also navigation links for leads to access their dashboard. These navigation links can be found at the top right of the listing detail page. The navigation links can be customized with CSS in your Design Settings.

High-Quality Photos- Multiple Sizes
The old saying "a picture is worth a thousand words" can definitely pique your customer's interest in finding their dream home on your site so we have several ways to display images, which load very fast!
Main Image with Carousel Navigation
The images displayed on the landing page are big and high quality with easy navigation through the carousel. Click through listing photos one by one using the arrows located at the bottom of the main listing image.

Enlarged Photo Viewer

Want to view a photo up close? No problem! Simply click on the photo to enlarge it. Once enlarged, the dots along the bottom represent the other photos, which will have a pop-up image if you hover over the dots. You can then quickly choose a specific photo, if you like, or use the small gray arrow buttons along the sides of the enlarged photo.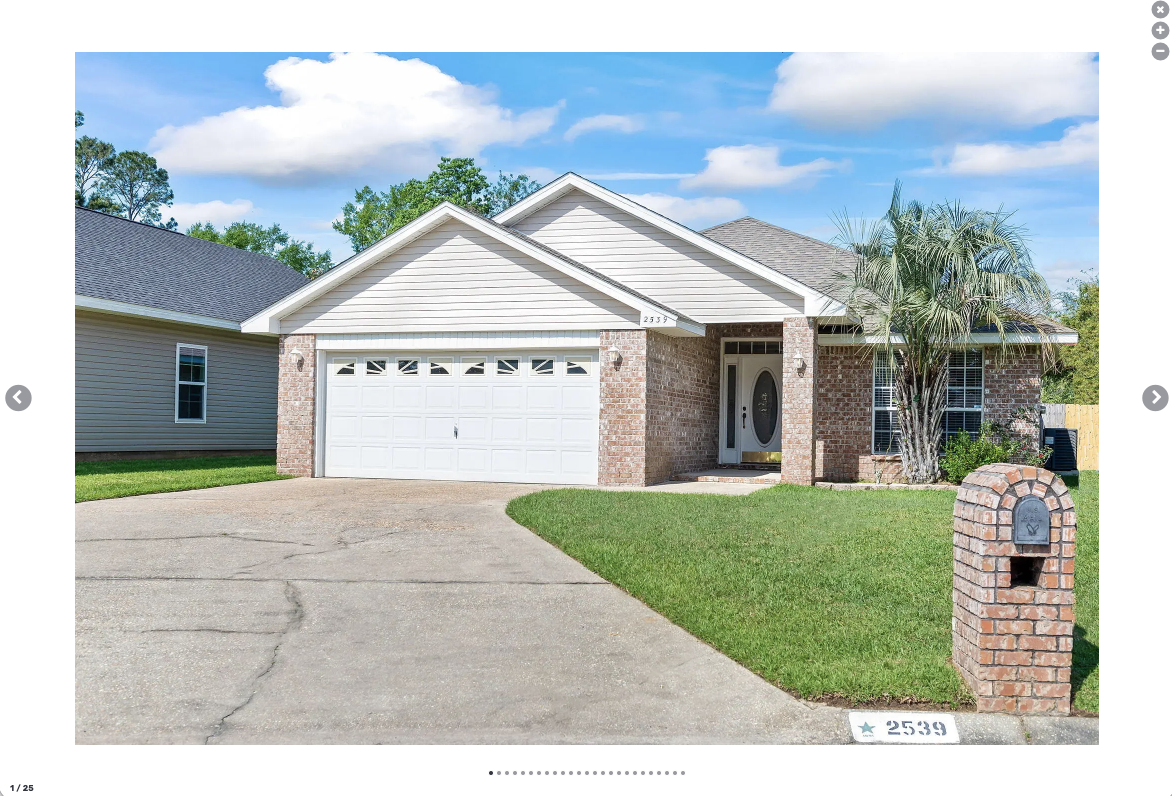 Quickview Photos
In addition to the main listing image, we provide a preview of the images in our Quickview column that allows a user to peruse the images quickly and see multiple images at a time.
The Quickview button is customizable with CSS in your Design Settings.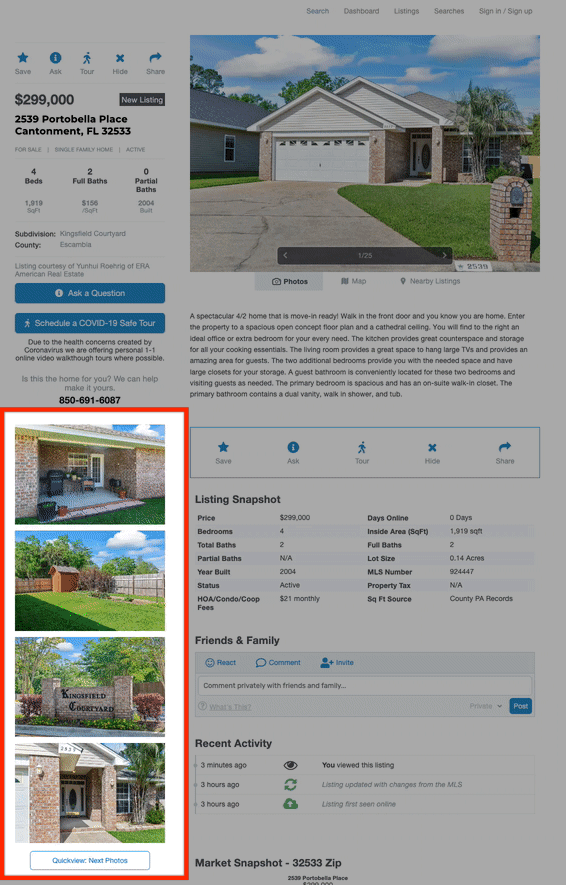 View on Map & Nearby Listings
Just below the main image, users can find a map in order to see exactly where the property is located and a nifty Nearby Listings function that will show the user all the listings close by.

Public Remarks/Property Description
The Public Remarks on the listing can be found just below this main image. This information is not editable as the data comes straight from the MLS as it was entered by the listing agent.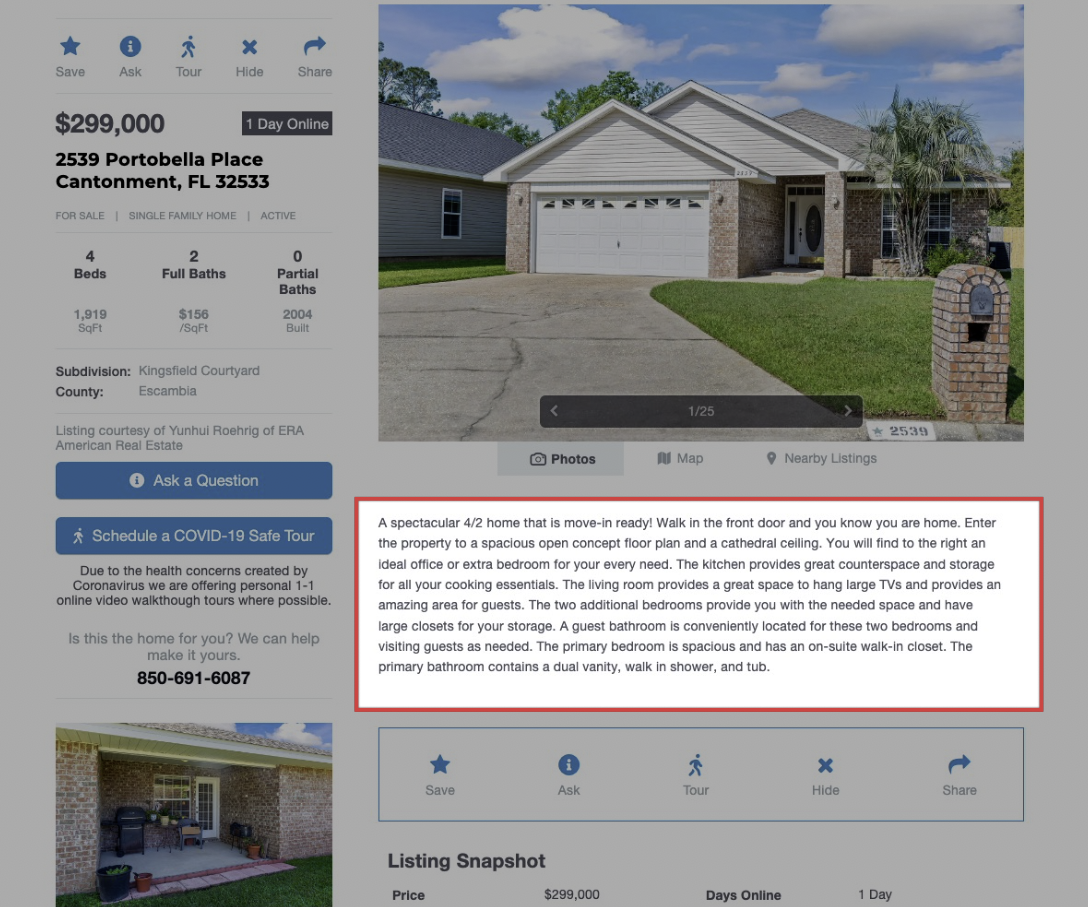 Call to Actions
There are a number of Call-To-Actions that allow your potential leads to save a listing, ask a question or tour the property, and hide and share the listings. We've sprinkled these primary action menus throughout the listing page so they are readily available to users without overwhelming them!

Additionally, there are also larger 'Ask a Question' and 'Schedule a Tour' call-to-action buttons.
Clicking any of these actions prompts a user to register for an account, by displaying the Signup/Sign-in form. If they haven't previously registered, they will be prompted to register. Once they register, it effectively turns them into a lead for you and you're able to view their search activity in your Lead Dashboard! If the user has already registered on your site, they will be prompted to log in if not logged in already.
These primary action menus, as well as the call to action buttons, are customizable in your Design Settings.
Save (save a listing): your lead can save listings they find on your site for them to view later in their own User Dashboard
Ask (ask a question):

your lead can send you questions or comments about the listing

Tour (schedule a tour):

your lead can indicate what time works best for them- weekdays or weekends, as well as mornings, afternoons, or evenings. They can also send you questions or comments about the listing

Hide (hide this listing): your lead can hide a listing from displaying during their search
Share (share this listing):

your lead can share on Facebook or Twitter, send via text or email, or copy the listing link.
These are lead-generating actions that will initially be routed according to your Lead Routing Settings!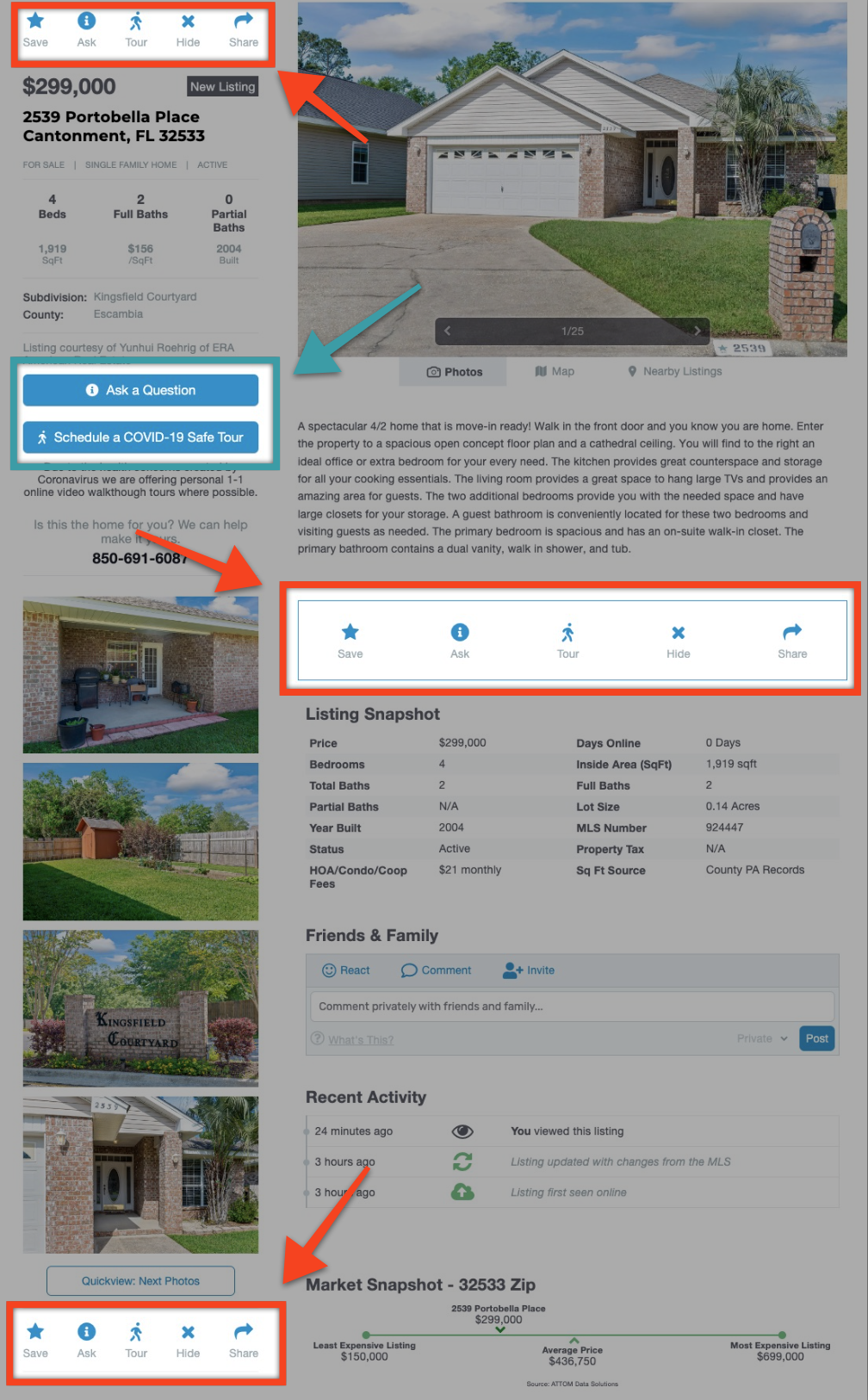 On mobile, we add a "Call Now" button that makes it easy for them to call you right away!
The mobile "Call Now" button can be customized using CSS in your Design Settings.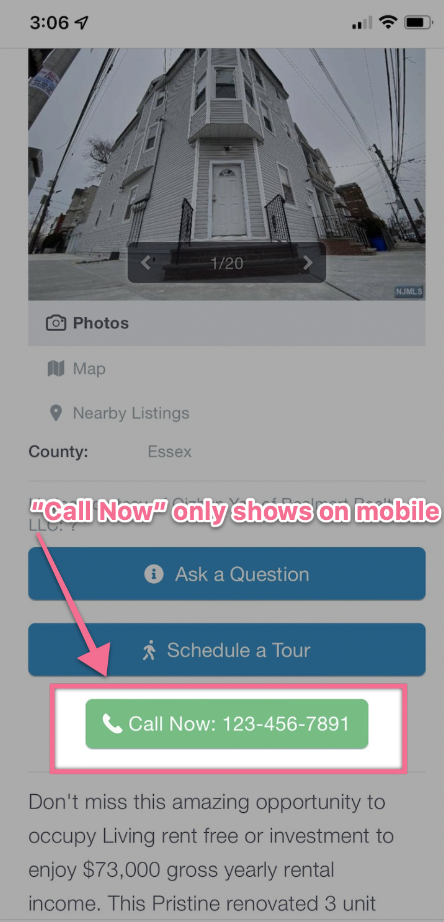 Primary Info
We always show the most important information first: price, address, property type, sale type, and status. This includes a quick summary of key information about the property, such as the total bedrooms and total bathrooms in this section, the year that the property was built, a breakdown of the square footage, and the price per square footage. Additionally, we include the county information and subdivision information.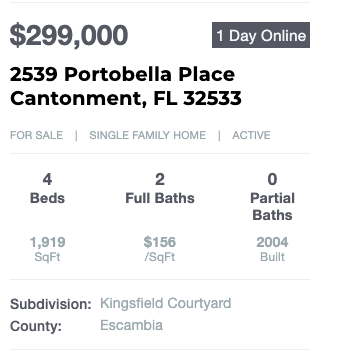 Listing Snapshot
The listing snapshot can be found just below the public remarks and expands on the primary info with other important information about the property such as HOA fees, Property Tax, Square Foot Source, etc. We will always show this information if the MLS includes it in their data feed.

Friends & Family Section
Every page features our exclusive lead-generating Friends & Family section that allows users to invite their loved ones to your website by creating their own account (which means another lead for you) to join in on their search! They can leave a reaction to further organize their home search and they can leave a comment internally to themselves for later that their search party member can also see or send an agent visible comment that prompts a new message notification to the assigned agent.
Learn more about the Friends & Family section, along with tips on how to invite and advocate for your leads to use this social media-feel feature.
The Friends & Family section is customizable with CSS in your Design Settings.

Listing Content
All of our plan users have access to vital listing demographic such as the listing's recent activity, market snapshot, general features, interior & exterior features, as well as community features and schools.
The data found in this section comes directly from the MLS, aside from the Market Snapshot, which comes from Attom Data Solutions.

Premium Content
Premium plan users have access to additional census information provided by Attom Data Solutions. Users can view things like insights on population, household, education level, employment, and commuting. All information is based on the zipcode of the property.
Premium users also have the option to restrict this information by requiring the user to sign up and create an account in order to see this data under the Registration Settings.
More details about the Premium Listing Content can be found here.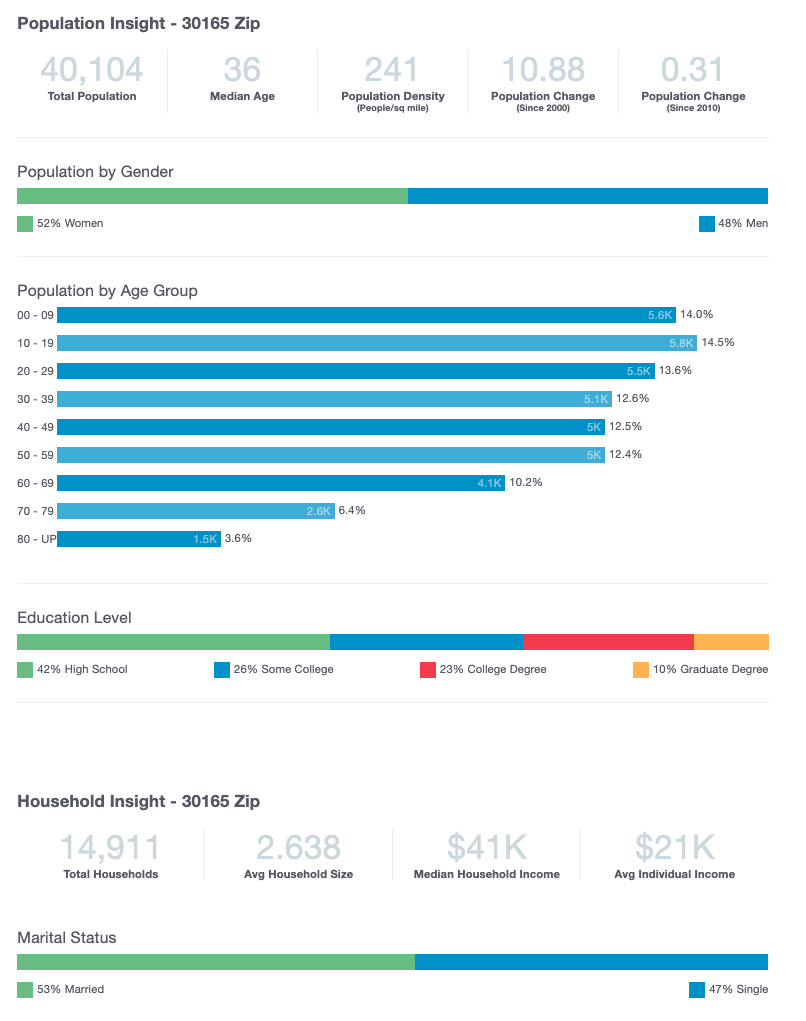 Required MLS Disclaimers
Showcase IDX takes care of all the compliance requirements for you by including the MLS disclaimer, the logo, and any copyright information or policies that are required by the MLS. We also display the listing firm, agent, and contact information (where required by the MLS).